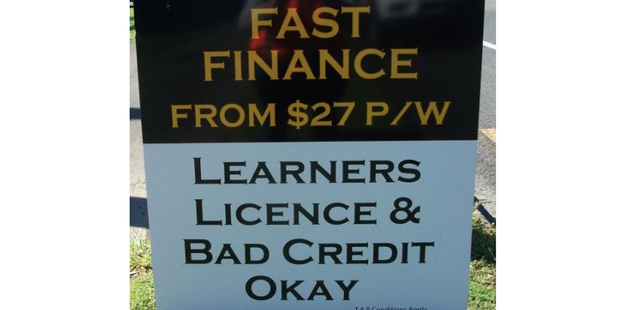 Buyer beware! Owen writes: "We are not fussy to whom we loan money in Hamilton. This car-sales sign looks like a trap for young players. Only $27 per week payback. That won't take long. Yeah right!" (I have personally done the dance-of-the-car-finance-loans. Going by the figures I was quoted on a $15,000 car, the scenario cited here would mean it would take around 21 years to repay the loan - and you'd pay $33,000 in interest.) In Paris. (Via telegraph.co.uk)
Literal toilet humour #2
"A long time ago, I competed in the Coast-to-Coast epic with a mate," says Dave from Ponsonby. "As was the practice in those days, I had been dutifully monitoring my carbohydrates and had gone through an exercise of 'depletion' for five days, followed by a couple of days of 'loading'. We had elected to use a campervan for the event and I was to drive the van to the end of the cycle leg and to prepare for the mountain run on handover from my mate. About 10 minutes before the handover, I began to feel the urgent call of nature, at which point I made a hurried exploration of the 'facilities' of the campervan.
A chemical toilet was something I had not experienced before but there was a bowl and, needs must. After the immediate satisfaction of relieving myself of two days of vigorous carbo-loading came the realisation that the consequences had not disappeared from sight and nor could I find any way of facilitating their progress! A growing sense of panic overtook me with the imminent arrival of my mate and the realisation that the campervan was not in a fit state for habitation, let alone for my friends, who were gathered around outside to wish me well. It was only after a couple of minutes of panicked investigation that I saw a slide above the toilet outlet and was able to introduce the toilet chemicals. My mate arrived soon after to find every window and door in the campervan wide open and me keen to depart as fast as possible! We placed in the top 10 overall, helped in no small part by me wanting to put as much distance as possible between that van and me."
Breasts, hot or not
Breast Cancer Awareness Month campaigns are being criticised for sexualising breasts. Risque ideas like the "Feel your boobies" T-shirt, even the American Cancer Society had a "It's Okay to Look at Our Chests" campaign. Now some survivors are saying enough. A quote from writer Peggy Orenstein sums it up: "On one hand, women with cancer are told - or have to learn - that we are not our breasts, that our sexuality, our femininity, are not located in the mammary gland. That's a complicated, sometimes painful reckoning. Then these organisations come along and reinforce the notion that boobs are the most important things about us, particularly if they're hot."
Funny business
David in Vanuatu says the local ice-making business is called the Stiff Water Company, and John is sure there used to be a company called McDonald's Takeaways in Kumeu which emptied septic tanks. "But they don't seem to be listed any more."
Interview: Gangnam Style was no accident....
Picture this: The worst band T-shirts, er...ever.
Picture this: These images are NOT photoshopped... Neither are these...
Video: Two men in a helicopter scoop down and rescue some rich guys remote control model plane that is stuck high in a tree top. (NSFW language)
Got a Sideswipe? Send your pictures, links and anecdotes to Ana at ana.samways@nzherald.co.nz