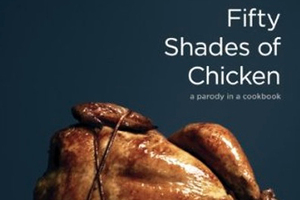 There are plenty of Fifty Shades of Grey parodies but this cookbook is a first. Fifty Shades of Chicken has poultry recipes interspersed with a story full of chicken-related puns and poultry innuendo. "One day as I was tying up the ankles of a chicken for roasting, I realised why some of the scenes in the book were so strikingly familiar. It turns out I've been practising BDSM for years - but with poultry," said the author, who goes by the name FL Fowler. Recipes include Dripping Thighs, Sticky Chicken Fingers, Bacon-Bound Wings, and Mustard-Spanked Chicken. (Source: People magazine)
The movie's too racy, but how about a beer?
"We took our 15-year-old all the way into Auckland (from Wellsford) to see an R15 movie," writes a father, "but were turned away because he doesn't have photo ID. A birth certificate doesn't count. We then took him into a restaurant and he was offered a beer. It turns out as long as he is with his parents he can drink in a bar yet he can't see a New Zealand movie, Two Little Boys? Good on you, Event Cinemas!"
Too close for comfort
An unidentified mother of twins was photographed at a Utah deli/cafe apparently toilet-training her toddlers at a table. Another patron witnessed the mother's bringing in what at first glance looked like booster seats, but then the mum undid the kids' jumpsuits and placed them on the potties. A spokeswoman for the deli said the incident was over by the time it was reported to her, but the witness put a photo on the internet (picked up by TV stations) so that millions of people could disapprove of the mother's parenting. (Source: News of the Weird)
If I could touch the sky for you ...
Rhys Haman of Tauranga writes: "It was my niece's birthday and her 4-year-old daughter, Naeva, gave her a little box. When she opened it she found some pieces of fluff in it. She said it was some bits of cloud, and she and her brother Kobe had climbed up high in the sky to get it for her! Not many people can say that they got a piece of cloud for their birthday."