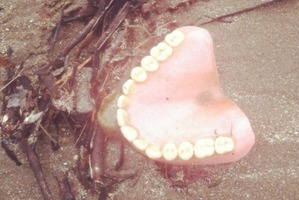 "Having trouble eating?" asks Viv. "Perhaps these are yours. Found between Rothesay Bay and Browns Bay. Can be reunited with other half by collecting at Browns Bay police station."
Deadly serious about marriage
A wealthy Russian businessman who wanted to propose to his girlfriend decided to test her love for him before popping the question - by faking his own death. Alexey Bykov hired a stuntman, a make-up artist, a screenwriter and a director to stage a fake car crash. "When I saw Alexey covered in blood lying in the road, a paramedic told me he was dead and I just broke down in tears," Irina Kolokov told Russian media. Bykov then rose from the dead and proposed to his stunned partner. She said yes. (Via Gawker.com)
Praise for bus driver's good deed
A reader writes: "At 11.30pm, I was getting very worried as our 21-year-old Japanese student wasn't home. At a quarter to midnight, a bus driver called. He had woken up our distressed student at Browns Bay (way, way past our stop).
He got our phone number from her and wanted to know what he could do to help. He said he needed to finish his route to Torbay but he would drop her at the McDonald's in Wairau Rd, where we could pick her up at about 12.30am. What a fantastic guy."
Driven round the bend in the rain
A reader writes: "Talking of leaky buses, I suggest Mayor Len Brown take a ride on one of the blue "bendy" buses to see how enjoyable public transport is. The buses leak like a sieve, often having wet seats, they are as cold as a cave and I am not sure of their vintage. Perhaps someone can enlighten me, or maybe Motat has the records."
Car-wrap caper uncovered
Chris Penny says the car-wrapping prank is simple and effective, yet "not so extreme that the victim stays upset for an extended period of time". He says standard food wrap is easy to tear off but industrial-strength box wrap will need scissors and require you to find the "start point" and walk around your car unravelling it. "I was at my girlfriend's house, I walked outside at around 10pm and there it was, wrapped in plastic. 'Friends' of mine found five cars belonging to other friends and wrapped them all in plastic."
Sweet Raro memories
Miriam says kids eating Raro from the packet is not new. "I did it at least 10 years ago when in high school. One thing we used to enjoy was to put it in a glass, add just enough water to make it mushy, but not liquid, and then eat with a spoon."