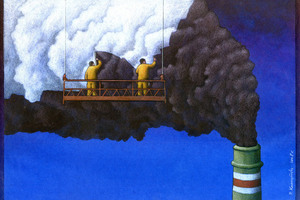 Art: Fantastic social and political satire (with a sense of humour) by Polish artist Pawel Kuczynski. More here.
Two left feet? The award for the Most Unlikely To Sell Trade Me auction goes to... This.
Media: The NZ Listener dredges up what John Key had to say about education in 2008...It ain't pretty for the PM...
Film Geeks: There is an actual movie called, You Can't Kill Stephen King. Part spoof, part homage the movie looks great and has been picked up for international distribution... Catch the trailer here.
Picture this: A wonderful picture gallery of terrifying French children's books about lost children, clowns moonlighting as emergency doctors, and vengeful rabbits.
Picture this: You Are Not Banksy...A photographer re-creates the street artist's most notable works, but in real life photos...
Video: When childhood obesity was celebrated....
To watch: There's little documentary content on TV these days - especially without Sky and TVNZ7 - but if you are a doco-starved kiwi there is a place you can go to gorge yourself... Watch Documentary is a free website that includes links to documentaries, sorted into handy categories so you can find what you're interested in. The BBC series How TV Ruined Your Life looks good, as does Australia's Boomtown Curse, from AL Jazeera, about the dark side to their mining-based economy.
Sleeping Around: At the end of the month I am joining a bunch a politicians, business leaders and other well-knowns for a night sleeping rough in Auckland's CBD (with just a sleeping bag, pillow and a sheet of cardboard). The Lifewise Big Sleepout is an annual fundraiser for the homeless that really asks participants live it, rather than just talk about it. At least for one night. Please sponsor me - no donation amount too small (or too big) - by going here.
Fight! A dance recital descends into a spat between these two mini-ballerinas...