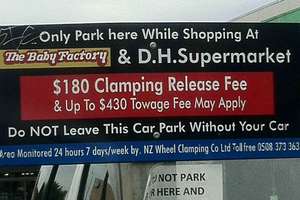 Heavy-handed: "Where do they plan to tow your car for $430 ... Hamilton?" writes this reader.
True love never fades
"In Wellington, 56 years ago, I was having a love affair with an attractive young lady," writes a reader from Whangarei. "We were skylarking and I went through a glass door. Lots of blood. Nearly died. Untidy scar across right shoulder. After I had healed, she said: 'Marry me, or leave me.' I left. Later, she married someone else and I did too. After over 40 years of successful marriages, her husband died and my wife died and we met again accidentally in Auckland. We made the most of this second chance and now live together in Whangarei, complete with untidy scar across right shoulder."
Key to unlocking mystery
"In the supermarket carpark today I saw a woman get in the car beside mine and attempt to start the engine, only for it to make the most dreadful noise," writes Linda. "She gets back out of the car, and explains, 'Wrong car'.
I wasn't sure what she meant until she got into an identical make, model and colour car on the other side of my vehicle, and drove off. Her car keys had opened a stranger's identical car! Am I naive to think that a car key is meant to open only the car it belongs to?"
20 x 5 equals ... tap, tap ...
Bernard from Clarks Beach writes: "While at the local dairy, I spotted a jar full of chocolate gold coins, marked '20c each'. I placed $1 on the counter and said, 'I'll have five of these, please.' The teenager behind the counter gave me the five chocolate pieces and then reached for his calculator to figure out the total cost."
* At the end of June, I will be joining of bunch a politicians, business leaders and other well-knowns for a night sleeping rough in Auckland's CBD (with just a sleeping bag, pillow and a sheet of cardboard). The Lifewise Big Sleepout is an annual fundraiser for the homeless that really asks participants live it, rather than just talk about it. At least for one night. Please sponsor me - no donation amount is too small (or too big) - by going here:
http://bigsleepout.org.nz/author/ana-samways
(Anyone got a decent coat I could borrow?)