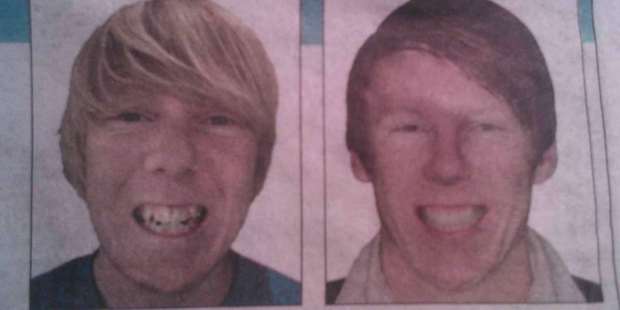 The before-and-after photo in a dental advertisement appears to fix your teeth, face and your hairstyle.
Every last drop counts
A reader writes: "I have a friend who is so tight that when he gets a 20c petrol discount voucher from Pak 'n Save, he goes to the pumps with his car and gets his partner to reverse in so both cars are back to back. Then he will spread the full $150 petrol allowance between the two cars so he maximises the 20c discount. He also lifts the hose into the air so every remaining drop of petrol gets into the petrol tank - his theory being that a bit of petrol is left in the hose if you don't do this!"
Organic, but rather smug
A study at Loyola University in New Orleans showed that people exposed to organic food are more judgmental and volunteer less than those exposed to comfort food. The organic people volunteered only 13 minutes to help a needy stranger, compared to 19 minutes (for controls) and 24 minutes (for comfort food folks).
"There's something about being exposed to organic food that made them feel better about themselves," says psychologist Kendall Eskine. "And that made them kind of jerks a little bit, I guess. People may feel like they've done their good deed. That they have permission, or licence, to act unethically later on. It's like when you go to the gym and run a few miles and you feel good about yourself, so you eat a candy bar." (Source: Neatorama.com)
Cliches that grate
1. HR departments referring to people as "resources" just as buildings and computers are resources.
2. Lotto assistant Pat says "you've got to be in to win" wears very thin too.
3. Catherine works in a cafe and says at least three times a day she hears, "Oh, they are all different aren't they" in regards to Eftpos machine models. "Apparently they are quite difficult to use."
4. Richard Holland finds misusing cliches grates ... such as saying "the proof is in the pudding" instead of "the proof of the pudding is in the eating".
5. Stephen Knight became a bit tired of management cliches so came up with a compounded version which suits many occasions: "Giving people a heads-up going forward to maximise potential synergies across several silo-ed platforms thereby ensuring policy-relevant key performance indicators that are time-bound and minimise positivism deficits."
6. "How about 'intestinal fortitude'?" says this reader. "Come on, if you want to say 'guts', say 'guts'. If you don't, what's wrong with calling it courage?"
7. Alan MacDonald of Takapuna says. "Personally, I avoid cliches like the plague!"
Intoxicating plant names
A reader writes: "The Drunken Woman lettuce is a very tasty variety. Years ago I used to grow the rose Tipsy Imperial Concubine. Now that name raised eyebrows!"