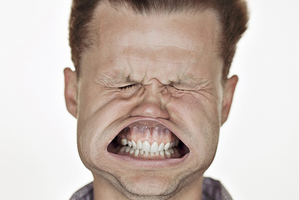 Picture this #1: Blow Job is a series of portraits of people coming face to face with an almighty gust (a high pressure air stream) rather than anything the title might suggest. See more here.
Local: Unfortunately, Wayne could not be here... but in this epic collection of brief clips everyone from local icons Karl Burnett and Alison Holst to Melanie Grifith and Meatloaf have been leaving messages for him. (This looks like the work of an TV entertainment reporter...Not Bowden...the other, better one...the hipster Farrier)
Celebrity: Rachel Hunter doesn't appear anywhere in the official trailer for this B Grade thriller Piranhaconda, but she delivers a killer line in this teaser.

Arty: The child-like game of sailing toy boats through the folds of bed linen (and over still sleeping parents) could have been the seed for this photo series of model ships sailing across rumpled beds.
Music: This cover of LMFAO "Sexy and I Know It' is soo much better than the original.
TV: Watching TV3s tabloid consumer show Target the other night I thought I was watching Eating Media Lunch (Scroll along to 12:40 and even though both clips appeared on TV they are probably NSFW)
Outdoorsy: Web Hike lets you hike through the Swiss Alps without leaving your chair. This is a fantastic virtual trip that'll blow your mind. Taken from the perspective of the hike, the only sounds you hear is the footsteps. There are 10 stages that cover 130 kilometers of hiking, from Thusis (Switzerland) to Tirano (Italy). It all happens in real time, so it would take you days to hike the entire Alps, but you can scroll through the footage and see the highlight. (click on the red bar with the yak on it and scroll along).

Picture this: Superheroes and villains placed them into various historical events. Quite compelling.
Video: The youngest US member of Mensa proved she was just an ordinary toddler needing to have a poo on live breakfast television. Love how the presenter desperately tries to placate her...
Video: Australian wedding celebrant's brilliant faux pas