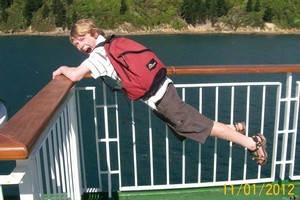 Pic: Quinn de Varga (14) from Belmont, North Shore, hangs on tight while crossing the Cook Strait. "We recently visited the South Island and were 'blown away' by the strength of the wind on the top deck of the Interislander," says his mum Louise.
Books: What Dr Seuss books really teach your toddler....
Fashion: Every girl wants meat legs, right?
Music: Dolly Parton is pretty amazing songwriter and singer, but her chipmunky voice is kinda irritating; slowed down it is tremendous.
TV: Downton Abbey actors in real life garb.
Quickie: Succinct message to Yellow Pages

Picture this: If you were thinking of capturing yourself at your most fecund, in a portrait shot to be framed and hung on the wall, peruse these photos for some er, creative ideas...
Real News: BBC exposes an internet troll in Cardiff who specializes in leaving offensive comments on "RIP" pages on Facebook, and tries to have a chat...
Get down on it: The death of Soul Train creator and host Don Cornelius inspired this collection of the best line dances from the 70s and 80s TV series.
Arty: In his "City" installation sculptor Mark Jenkins' "City" places alarmingly lifelike mannequins in very public places. Many seem in peril or upset, but the longer you look, the humour shines through...
Thinspiration: You thought the blonde from Rafters had a teeny tiny waist? Check out this Romanian model.
Video: This is a world map showing all earthquakes in 2011. Using red circles and sound effects to indicate the magnitude and depth of each earthquake, this video is a way to visualize the Christchurch quake and the one in Japan shortly after. Note the bottom left hand corner shows the date. Oh, and you must watch this on full screen.