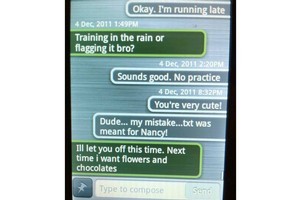 A reader writes: "My husband went to send me a text while he was in line to buy movie tickets for us, while I waited in the pub. When he rejoined me he was laughing because he'd accidentally sent the text to his touch rugby mate Chris."
Spread those germs
Who hasn't encountered snotty service while dining? But it was the bartender's dire personal hygiene habits that sparked a stomach-churning moment for Aucklander Rachel and her friend. "He sneezed into the tea-towel he was drying glasses with, then wiped his nose with it and then continued to dry the remaining glasses," she said. The pair, both health professionals, emailed management to complain. A "formal warning" was on the cards. It seems that one Auckland bartender might be in need of a strong drink.
Romance at the sink
Dishy #1: "Yes, I am in my 80s, so I wash my dishes by hand," says Alison. "I should like to point out that there is nothing like the intimacy of dishwashing for young people interested in each other but lacking the privacy to explore each other's ideas and attitudes. My observation of dishwashers is that when two people are trying to fill a machine, all that develops is an argument about the right way to stack it!"
Learning at the sink
Dishy #2: A reader writes: "Growing up, I learned Waltzing Matilda, the Morse code and various poems while doing nightly dishes with Mum. And I have happy memories of everyone crowding into the kitchen to dry the dishes after Christmas lunch. We'd joke and bicker over the tea-towels. Dishes may be a loathsome 80s activity to some, but to me it is part of quality family time."
Saving at the sink
Dishy #3: "The five flatmates and I decided to stop using our dishwasher and start washing dishes after we used them," writes Clayton. "The result? One hell of a drop in our power bill and no need to search for your favourite pan or cutlery as it's always clean and ready to go! For early-mid 20-years-olds we don't mind no dishwasher!"