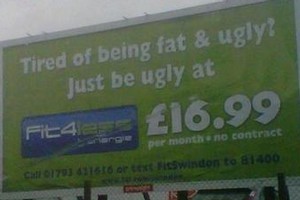 A great way to bring in the customers.
(Source: Failblog.org)
Unbirthday surprise
A reader is stung post-holiday: "Rented a fabulous holiday home in Matapouri with friends for the weekend to celebrate my birthday," writes Leona. "Today received a bill for replacing a damaged towel and flannel. $219.42 (includes liaising with clients). Ouch."
Better than babies
In a bid to slow soaring population growth, Indian health officials are offering cars, motorcycles and TV sets in exchange for sterilisation. A local charitable trust apparently donated a Nano (the world's cheapest car), five motorcycles, a bunch of TV sets and blenders and cash incentives. This follows a similar programme in which about 150 men received vasectomies in exchange for gun licences. (Source: Weird Asia News)
More happy feet
"My ultimate dream is to be buried in a deep ocean close to where penguins live," says a 79-year-old Belgian formerly known as Alfred David but now called "Monsieur Pingouin". He was named after a car accident left him with a waddle in his walk that he decided to incorporate into his identity. Mr Pingouin started a penguin-item museum and obtained a hooded, full-body black-and-white penguin outfit that he wears in his daily waddles around his Brussels neighbourhood of Schaerbeek. His wife left him when he made the name change official; being "Mrs Penguin" was not what she had signed up for.
(Source: News of the Weird)
You dropped this?
Dianne writes: "A truck with a wide heavy load went through the intersection of Great South Rd and East Tamaki Rd on Tuesday around 10.30am and lost an aluminium tap or valve wheel from the piece of machinery it was carrying. It can be picked up by phoning (09) 277-0470. This was a huge piece of machinery and when the truck hit a bump it fell off. Luckily none of the passing cars were hit and all swerved to avoid the huge tap sitting in the lane of traffic. The recipient of the machinery might find the tap handy ... The driver was oblivious and I did not get the company name on the truck as it went through the next set of lights."