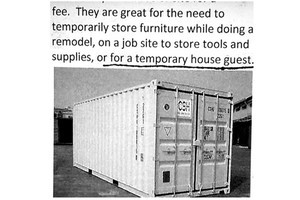 At right, a great way to avoid a repeat visit. Source: Criggo.com
For the late inner child
A slide has been installed as an alternative to stairs at Overvecht Station in Holland. The "transfer accelerator" is designed to help passengers who are running late make up a bit of time or just want to make the grind of the everyday commute a little more fun. At night, the sound of Bach emanates from the slide.
Daylight robbery
The Mt Roskill branch of the National Bank tried to charge a local man $15 for the privilege of depositing a small cheque in UK pounds into his account. The attempt failed as the disgruntled customer fled to the safety of a nearby Kiwibank, where the cheque was processed at no charge.
Tour winner's spoils
Paula writes: "My husband is an avid fan of the Tour de France. He was watching with our 6-year-old daughter as the winner of a stage was presented with his spoils. 'He's lucky, Dad,' she said. 'He gets flowers, toys and two wives!' - just as the winner was kissed by a model on each side of him!"
Drawing the short straw
Following on from yesterday's burnt cornflake complaint, a reader writes: "I have a friend who works for a certain dairy giant in the customer services division and received a call from a furious and very rude customer who didn't receive a straw with one of his drinks. He was abusive and rude and demanded compensation, probably assuming a voucher or a new drink in the mail, and instead was sent a single straw. Fair enough, I say."
Victim overwhelmed by kindness
Michele was in a car accident on Friday morning at an intersection in Freemans Bay and would like to thank the many people who helped. "From the roadworks man whose hand I held while help came, to the lovely office lady who called the ambulance, cancelled a meeting in order to stay and comfort me, the man who helped me try to find my glasses and the amazing ambulance and police officers. I was also pleasantly surprised to receive beautiful flowers from the very, very apologetic driver. Accidents happen, we all make mistakes, but what's important is that we learn from them. It's so nice to be reminded that there are indeed lovely, caring people in our community."