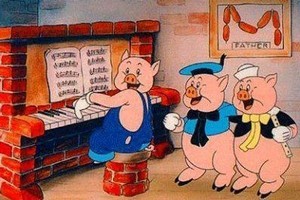 A grown-up joke from the classic 1932 Disney cartoon Three Little Pigs. (The portrait of "Father" in the background is a string of sausages.)
Trump drives one home
In an interview with the New York Times presidential wannabe Donald Trump made a bizarre statement when comparing his opposition to the legalisation of same-sex marriage to his reluctance to use a new kind of putter. "It's like in golf," he said. "A lot of people - I don't want this to sound trivial - but a lot of people are switching to these really long putters, very unattractive," said Mr Trump, a Republican. "... I am a traditionalist. I have so many fabulous friends who happen to be gay, but I am a traditionalist."
Companions, not pets
Two academics want to banish the word "pets". Domestic dogs, cats, hamsters or budgies should be rebranded as "companion animals" while owners should be known as "human carers", they insist, and "wildlife", which is insulting to the animals concerned, should instead be known as "free-living".
The first editorial of the Journal of Animal Ethics also condemns terms such as "critters" and "beasts" and phrases such as "sly as a fox ", "eat like a pig" or "drunk as a skunk" as unfair to animals. (Source: Telegraph.co.uk)
New words
* Lawnmower parent: A parent who tries to smooth his or her children's paths through life by solving their problems for them.
* Junkey: How the Prime Minister would pronounce his own name.
* Cold finger: Similar to cold shoulder, except a cold finger is done by ignoring someone's text or Facebook message - usually when said person's comment is pointless or uncalled for.
iPad sidelines waiter
A restaurant in China is replacing waiters with iPads. Restaurant manager Wang Hong said: "iPad helps us lower the costs, make the ordering convenient and bring fashion to the restaurant". Each table orders their meal with an Apple iPad and can continue to use the iPad to browse the internet and/or play games during their meal. (Source: ChinaHush.com)
... and be quick about it!
John writes: "Not long ago I went for a middle management job interview at an event management company in Auckland. I was interviewed by my potential supervisor and her boss. I thought things were looking up when I then got interviewed by the chief executive. I was then asked to complete a numeracy and literacy test. I was halfway through when time ran out. Despite getting the ones I did all right, and despite having a masters degree with honours and an undergraduate degree (both in management), I was then told that I would not be considered because of my failure to complete the numeracy and literacy tests in the required time. So much for two degrees ..."
Homestays safe, thanks
Jan from Glendowie would like to thank the kind couple who rescued her two new Japanese homestays after they caught the wrong bus and became lost very late on Friday night. "They ended up somewhere in east Auckland and you drove them safely home. They were so, so grateful. Thank you."