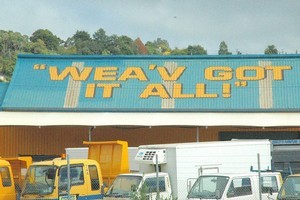 As apostrophe-cide goes, this rooftop slogan at Cowley's Hire Centre in Whangarei is a beauty, says Dorothy McHattie of Mairangi Bay."My plans to carry black markers and white paint to add or remove apostrophes somehow never come to fruition, but at least I can plot how to fix those within reach. However, I certainly can't work out how I could get up there to fix this one, so it has been driving my stickler instincts crazy for years!"
Time's up, you don't get the job
A reader writes: "My partner applied for an admin job through a big name recruitment company. As part of the process she was given a series of long division maths tests then a series of Excel spread sheet tests with time limits. Despite 100 per cent accuracy she failed because of unreasonable time restrictions. She is now a purchasing officer and enjoying her job but I wonder how many other bright applicants have been subjected to this flawed job recruiting process and given up?"
School holiday loading
School holiday surcharge: Allen took his grandson to Lollipops, Ellerslie. "Normally, as he is over 2, I get charged $8. Last week the charge was $15.80! That was $12 for him and $3.80 for me. I could claim a free coffee, but the 50 per cent increase because it was school holidays was ridiculous. I complained but my grandson was already in. I could not see any greater attendance, but if there was they would be making a killing."
Cheap option? Not during Cup
A reader writes: "Never mind school holiday surcharges, wait until the World Cup-related rorts begin. I noticed yesterday that Wildfire's express dinner option ($20 cheaper than the option that includes entrees and desserts) won't be available during September and October. I presume this is because 60 trillion people (according to Martin Snedden) will be coming for the World Cup, and restaurants can't possibly have us local plebs taking up tables if we're not going to spend up large."
No escaping the extravaganza
Liz lives in London, and when the date for royal wedding was announced she promptly booked flights for a week in Romania. "Wandering about in Sinaia, a small town north of Bucharest on Friday, blissful in the knowledge that I was far from any hint of the British monarchy ... imagine my surprise to walk into a cheap bar/grill with six Romanian farmer customers, to find the bar television tuned to, you guessed it, the royal wedding. Was nowhere safe?"