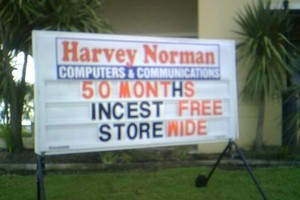 Harvey Norman in Hamilton has hit on a new family-friendly marketing strategy.
The world is still a good place
Every so often you hear a piece of news that makes you feel good about the world. Today's relates to the loss of a wallet. Mark thought he had seen the last of it. But he didn't reckon on the honesty of the finder. She spent quite some time phoning all the numbers in the wallet until she found someone who knew Mark. Then she handed it back - complete with the considerable amount of money it held. So thanks, Tumaiata, of the fish shop near Countdown Onehunga. You've made our day.
Library's humour section
Monique writes, "Who says librarians don't have a sense of humour? If you ask to use the loo at Grey Lynn Public Library you are handed a key with a tag ... that says 'John Key'."
Answers on a postage stamp
A Herald staffer went online to find out for his school-age daughter what day in 1901 Queen Victoria died.
The history-fiend.com site had no reference to the monarch's passing but it did have this entry for January 22: "After 63 years, England stops sale of Queen Victoria postage stamps series and begins King Edward VII series." He wonders whether it wouldn't have been simpler to write: "Queen Victoria dies."
Give to the needy not the greedy
Phoned the City Mission, St Vincent de Paul, Salvation Army and two church shops offering them donated items to go to "needy" people. Rather than put them on one of the websites to sell I thought I would do my bit. Two items are large colour TVs, still working and with perfect pictures. Was told by all services: "Oh we don't need them, thanks, we have a number already, people only want the flat screen TVs." Am I missing something here? We are talking about people who are down on their luck, aren't we? Well, you have lost me. From now on everything gets taken to the tip. None of these services will get a thing from me again. Seems that their clients are not so "needy" after all. PS: Just phoned one of the Hospice shops and was informed they would be happy to pick up the items, including the two TVs.