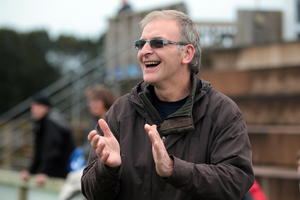 The first thing that struck me as being wildly different from my youth playing days was the pre-match team talk.
"Caring and sharing," is what East Coast Bays coach Andrew McHugh asked of my daughter Robyn, 12, and her under-13 teammates yesterday before they met Eastern Suburbs on Auckland's North Shore.
Caring and sharing is not a term I recall hearing as I battled and bullied my way into the Scotland under-18 side in 1978.
As a defender, I was told to "batter" the centre forward in the first five minutes - "just to let him know you are there." You'd be arrested for that these days.
The sideline behaviour on the Shore was very different from some I witnessed on pitches strewn with broken glass at some of Glasgow's notorious housing schemes.
I remember feral teen thugs with hammers and bottles tucked into their belts and ringing the field in a display of intimidation.
So it was a pleasure to join the well-behaved parents at Browns Bay as my kid's team won 3-0.
Maybe there is something to this caring and sharing lark after all.