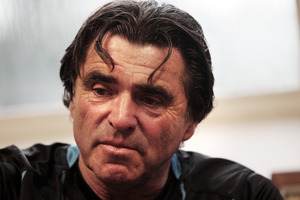 Fiery college football coach Kevin Fallon was on the sideline last week watching the Eastern Suburbs team he coaches, when a chippy opposition supporter on the veranda at Stanmore Bay offered him some unhelpful advice.
But this time - for perhaps the first time in his life - Fallon didn't respond. He ignored the sledging. He kept walking.
"I think I ground a tooth down trying to keep my mouth zipped, but I did it," Fallon says. "So I know it can be done and that is the way it has to be from now on."
Why? Fallon is in the dogbox after a complaint that he made an "inappropriate and offensive" comment to a player in a rival team at the secondary schools premier cup tournament in Nelson in September.
Fallon has headed the sports academy and coached the 1st XI at Mt Albert Grammar School for 17 years, but the school has now banned him from making any on-field decisions following complaints about his conduct.
Each week, 64-year-old Fallon lines up outside the school counsellor's office, alongside some of his more troubled students, for his turn at anger management counselling.
And this week, he is called to the headmaster's office for a candid mea culpa interview with the Herald on Sunday.
It seems a humiliating comedown for one of the great names of New Zealand football, the man who helped coach the All Whites to their first World Cup finals in 1982.
But MAGS is determined its staff will model exemplary behaviour to the boys in their charge, and the complaint against Fallon was the last straw for principal Dale Burden.
The Herald on Sunday has learned that the complaint was laid by former All White Chris Turner, whose son was playing that day for rival Auckland Grammar. Turner now coaches Waitakere United and, as former general manager of the Kingz, was once Fallon's boss. Turner declined to comment this week, saying the matter was in MAGS' hands.
But this is not the first complaint Fallon has faced in his 17 years at the school. Fallon has made headlines several times over his sideline behaviour.
In 2009 he was banned for a season after complaints were made that he had accused a referee of being biased.
The previous year, Auckland Grammar pulled out of the final with MAGS over claims that Fallon manhandled a player during a brawl.
Following the latest MAGS probe it was decided that Fallon would continue to coach the first team during weekday training but would have no "on-the-bench" involvement on Saturdays when they played.
At halftime he still leads the team talk in the dressing room.
The contrite coach reveals he is attending weekly anger management sessions with a specialist mentor at the school and is working hard to mend his ways.
"I have to change and be much more of a positive example to my young players," Fallon says. "The world around me is changing and I accept I have to change with it.
"Even my wife has asked me to tone things down. She has been very supportive but my passion for football and refusal to listen to other people was driving her crackers."
Few could argue with Fallon's success at MAGS. Before his arrival, the school team had not won anything important for 23 years. Since 1997, Fallon has led the side to an astonishing 10 Auckland titles, eight knockout cup wins and seven New Zealand Championships, and they have lifted the Challenge Cup six times.
His winning methods also produced four players from MAGS who made the All Whites World Cup squad in 2010 - Jeremy Christie, Tony Lochhead, David Mulligan plus Fallon's son, Rory, who scored against Paraguay at the World Cup.
Fallon concedes his sideline conduct was overshadowing the on-field achievements of his players.
"I Googled myself recently and instead of the good stuff about my career being displayed it was all these negative things about my behaviour that came up. That is not the kind of example I want to set for young players. I'm not a nitwit."
The veteran coach admits it has not been easy having to sit outside the counsellor's office alongside troubled students also waiting their turn.
"One of the first things I did was write in my daily coaching diary, which is my bible, the words 'change, change, change'," he says. "The sessions are helping greatly and are something I want to continue with."
Burden insists Fallon's more mellow attitude is going down well with parents and other staff members.
Asked whether the coach is likely to be fully reinstated next season, Burdon says it is now out of his hands.
"I would certainly hope to see him back in charge on a Saturday but whether that happens or not is now entirely up to Kevin."