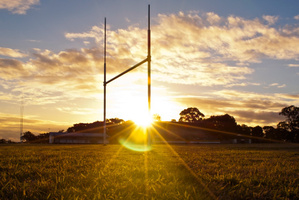 Sport has the power to inspire pride and excellence. Sport is something Kiwis are good at and it's something that has helped shape our national character and promote our country on the world's stage.
At the heart of the Olympic Movement is the fundamental belief that through sport, people can become better.
It's from the sidelines of muddy fields and asphalt courts around the country that kids are cheered on and encouraged to give sport a go.
A tiny percentage of these kids supported by their parents and communities will go on to become an Olympian, but by far the majority will simply learn what it is like to win and lose with grace, to deal with frustration, to see the results of hard work and determination, to work as a team, and to show respect for others.
That's the great thing about sport - even if you're not the best, it still encourages you to do your best.
When this crucial support goes wrong, the benefits of sport are threatened.
Poor side line behaviour does not teach kids how to win and lose well, or how to deal with disappointment.
It also does not encourage a kid to keep trying, even if the goal wasn't theirs on the day.
Olympic athletes also tell us that it's the support from the crowd that can make a difference between a win and a loss, between letting the pain beat you or keeping it at bay for that extra crucial second.
Let's make sure our kids get the best out of sport and the best out of themselves. Positive sideline behaviour can really make a difference and we're delighted to see community campaigns such as Sideline Champs promoting sport and its values.
* Kereyn Smith is the secretary general of the New Zealand Olympic Committee