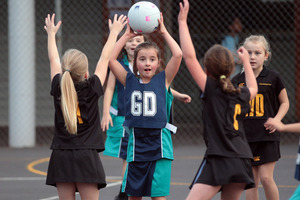 When netball ace Casey Kopua hears the familiar sound of a cowbell ringing out from the side of the court, it is time to up her game.
The 27-year-old Silver Ferns captain and Waikato-Bay of Plenty Magic star instinctively knows it is a sign of encouragement from her Matamata farmer dad Murray who, with mum Joanne, is among her most ardent supporters.
"Dad goes really hard with his cowbell and no matter how big the match is, it always gives me a lift," Kopua explains.
"Knowing my family is in the crowd gives me a huge boost when I need it most.
"That is the way it has always been with my parents. There was never any shouting at me from the sidelines or yelling abuse at officials if things didn't go my way. Just some good old-fashioned love and support for their kid, just the way it should be."
Kopua has signed up as an ambassador for the Herald on Sunday Sideline Champs campaign. This newspaper is supporting good behaviour on the sidelines of sports fields and courts, and backing the work being done in the winter sports codes to combat increasing numbers of abusive fans.
Kopua is an inspiration and role model to thousands of girls around the country. She was named captain of the national team at just 24 and has a trophy cabinet bulging with honours.
Among her impressive haul aretwo Commonwealth Games gold medals and another from the World Netball Series in 2009. Then there are two silvers won at theWorld Netball Championships, and, two years ago, she was named an Officer of the New Zealand Order of Merit. Kopua says she is appalled at some behaviour she has seen on the sidelines from frothing-at-the-mouth parents. It just wasn't the way she was raised.
"Mum and dad never pushed me into anything I didn'twant to do and were happy to let me pursue what I wanted, which was to play rugby or netball," she says. "When I was a youngster I was just as happy milking the cows as I was throwing a ball around on the farm with my father.
"In my book, a happy person is a happy player. Kids don't need to be pushed too hard, too young, to compete or they could end up turning their back on sport altogether."
The 1.88 metre goal defender has found happiness in her personal life too. In January she married Hamilton lawyer Terry Kopua and is studying to be a PE teacher.
However, Kopua is no stranger to copping abuse from opposing fans during games and admits comments posted on the internet can rile her.
"There can be really nasty stuff on the team Facebook page. It is small stuff but it can eat away at you, if you let it," she says, "and last year I was a bit heavier than usual when I came back from an injury and a TV commentator attacked me for it on air. It was really personal."
The behaviour of parents and supporters around the netball courts is generally regarded
as being significantly better than at other popular sports.
That has not always been the case. The game has worked hard to clean up its act in the past decade, following a 2002 report by Massey University researcher Janine Bannister that concluded netball fans at kids' games were worse behaved than their rugby counterparts.
There have also been a number of ugly sideline incidents highlighted in the media.
In 2008, an Auckland father was banned from watching his daughter play netball after he reportedly swore, grabbed the teacher coach and reduced a student referee to tears; two years ago children as young as five were removed from the courts at the Te Pai Centre in Henderson after suffering abuse from adults during a game; and in March 2011, schools in Northland, Waikato, Wellington and the Bay of Plenty asked parents to sign a code of conduct after outbreaks of violence and abuse at junior sports events, including netball.
Some parents were "trespassed" from attending matches. There are now 87 netball centres throughout the country, and almost 250,000 people play or are involved in the sport.
Major venues in Auckland, Christchurch and Wellington each host hundreds of teams every week and some have introduced sweeteners, such as handing out rewards and prizes to individuals who show sportsmanlike behaviour.
At the Dunedin Netball Centre, people are given free match tickets, pizza and fruit if nominated by their peers for positive behaviour around the courts. A blast of a whistle over the speakers also helps keep people in line.
Raelene Castle, chief executive of Netball New Zealand, believes games being played at centralised venues, with people patrolling the sidelines, has gone a longway to help tone down courtside behaviour.
Castle insists educating supporters, players and coaches about the rules of the game and the importance of instilling positive attitudes is more effective than simply punishing offenders.
She also believes that PE should be compulsory in NewZealand schools because the discipline learned and friendships forged help shape respect towards others.
"PE is now optional but just being involved in physical activity and team games not only keeps kids fit and healthy but encourages sportsman- like attitudes."
Simon Walters, senior lecturer at the School of Sportand Recreation at AUT University, agrees education is the way forward.
"A focus on the negative behaviours tends to polarise the debate. It is, for me, about coach and parent education.
"Trying to get people to understand that the focus of children's sport is allowing them to develop as athletes as opposed to the professional model of having to win each and every game. Toomuch competition, too early, can cause children to lose interest."
Tom Parsons, president of the Secondary Principals' Association, believes good behaviour at kids sports events is hugely important.
"Sport is a great way of bringing people and communities together and is almost a New Zealand rite of passage," he says.
"Even in some parts of South Auckland, gang members put their patches to the side at the weekend and they support their kids at matches, so there is no excuse for bad behaviour from parents anywhere, whether it is at the rugby, football or netball."
In many sports, it is the referees who get it in the neck most. Last August, a group of netball umpires in Hawke's Bay refused to officiate in Napier. The eight New Zealand badge-holders declined to control games because they were unhappy with the way Eastern Netball handled the disciplining of a Physique player who had allegedly abused theumpires in a gamea fortnight before.
A member of the team's management also allegedly abused a third official on the sideline.
Carrying a whistle can be just as stressful at junior level, among volunteer and
student officials.
As a newbie netball umpire, Diane Crawford-Errington would find herself frozen with fear when angry parents lined the court she was patrolling. "It's terrifying getting out there. You don't want to stuff it up but it takes a while to learn where you should be looking. You can only do what you can."
But telling that to the parents on the sidelines is another thing entirely.
As she ran past, she would hear them shouting and swearing at her. "They won't say things to your face but when you're running past they're really aggressive with their words. Things like: 'Are you f***ing blind'?"
Five years on, with hundreds of games under her belt, she will turn around and give the hecklers a serve.
Crawford-Errington says there is a lot of support available to umpires from the sport's organisers. She can penalise a team if its supporters get too aggressive. "I'm not the best umpire out there by any means but I do it to help out.Mykids aredown there playing anyway, so I might as well."
Back in Hamilton, as netball superstar Kopua prepares for her next big outing with the Magic, against the Firebirds on the Gold Coast next Sunday, she reveals even the most innocent but enthusiastic support from family can upset some people on the sidelines.
"As well as his cowbell, my dad now has a vuvuzela horn be blows during games," she says. "I think he has had it taken off him a few times because of the noise."
Kopua also admits she is no angel herself and has to work hard not to argue with umpires.
"I talk to myself during games as a way of keeping a lid on things and I seem to be getting better at it. Netball is a passionate game but that is no excuse for bad behaviour on or off the court. And that goes for everyone, at every level."
-Additional reporting, Susan Edmunds