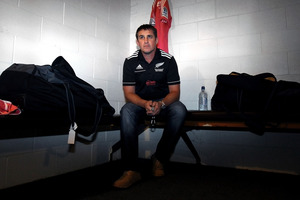 Rugby referee Bryce Lawrence has experienced and dealt with the worst in sideline behaviour - but he says the real kudos should go to volunteer refs on the sidelines of grassroots matches.
The top New Zealand ref says he would still be blowing the whistle at test level if it hadn't been for the abusive backlash after his handling of a World Cup quarter-final.
The Wallabies only just won the tightly-fought match against South Africa. Lawrence admits he was too tentative with the whistle and his refereeing was not up to his usual standard.
The reaction from South Africa fans was instant. A Facebook page was set up wanting to "get rid of Bryce Lawrence", and people stopped him in the street to criticise him, even in his hometown of Papamoa.
It was deemed too dangerous for him to ref in South Africa and he quietly worked out the year left on his contract.
Now, he is the NZ Rugby Union's high performance referee performance manager, working with the country's top 15 referees. But he still has a soft spot for the days refereeing grassroots rugby, and applauds those who still do it, week in, week out.
"I think overall people don't appreciate the amount of time and effort community volunteers give to being match officials," he says. "I really admire local club referees who go out and spend four or five hours away from home, reffing to the best of their ability and then staying after to run touch for other games."
People don't realise how much effort it takes for volunteers. "For some people, the ref is just an easy person to blame. If they understood the commitment, they might be more tolerant."
There's no easy fix because it comes down to individual behaviour. "Too often clubs don't draw a line in the sand for their supporters. The best environments I've been to are where clubs are appreciative of their officials."
Referees at kids' games get more abuse from sidelines and players than elite refs, he says, but the pressure intensifies as you go up the grades. "The only change is that the higher you go, the more media attention you get. If you ref a game in the UK, there might be 9 million people watching it and half of them have got access to social media."
Lawrence says he was surprised by how aggressive, personal and prolonged the response to the World Cup game was, especially online.
"I think social media are catching a lot of people out. It's all care and no responsibility. People say whatever they like and it's read by everyone. I had never considered how powerful social media are."
Lawrence says most referees are happy to admit when they have got it wrong. "I don't think anyone minds it if it's fair. It's just when it's unfair or the criticism becomes personal. That's when it can be a bit hard to take. You go out and do your absolute best. If people start criticising you as a person, that's when it gets across the line of being acceptable."
Lawrence says he won't go back to refereeing now.
But he says that all up, it was 10 "really good" years.
"I loved every minute. I had so many great experiences, and met so many good people. Refereeing is a fantastic thing to be part of."
- Herald on Sunday