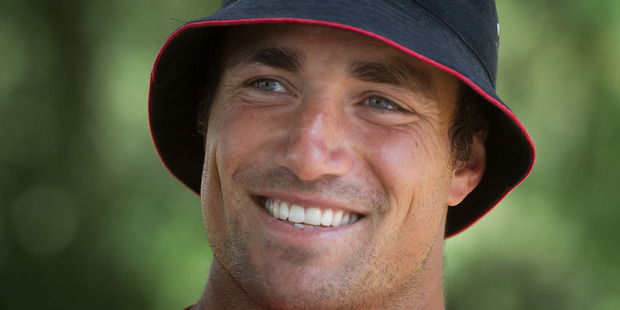 Richard Kahui is acutely aware that starring for the All Blacks means his every move is scrutinised by legions of adoring young fans and players. With All Black captain Richie McCaw and pin-up Dan Carter, the 27-year old Chiefs midfielder has been signed as a VIP ambassador for a new rugby scheme targeting the under-13s.
The campaign, called Applaud, is aimed at encouraging supporters to be good sports at schools and clubs and to stamp out antisocial sideline behaviour.
"All Blacks are role models and for that reason what we do has a far bigger impact than it otherwise would," Kahui told the Herald on Sunday. "The good thing is we have the ability to support good causes and influence kids in a positive way.
"I'm proud of the way I carry myself on and off the field and hope kids can feel the same about the way they have played after a game. Win or lose, you can always play fair."
Applaud will officially launch in Auckland on June 9. It will provide schools and clubs with various tools and initiatives to help create a better sporting environment.
These include a charter and code of commitment to promote a positive environment for rugby; a range of promotional material featuring a range of All Blacks players; posters, stickers, wristbands and referee bibs; plus My Parents are Ugly books.
Kahui, presently sidelined with a serious shoulder injury, has been capped 17 times for the All Blacks since debuting in a 44-12 win against England in the summer of 2008. He scored four tries at the 2011 Rugby World Cup and is due to move to Japan to play at the end of the Super Rugby season.
Kahui believes it is hugely important for supporters and parents at weekend junior games to behave appropriately.
"I vividly remember when I was growing up, the parents who would scream and shout at their own and other kids," he explains. "I know it can be embarrassing and hurtful for all the kids, especially if it is your own mum and dad involved.
"It is great that parents and supporters want to come and cheer their kids on but it is encouragement and support they need. There is plenty of time to be serious when they grow up."
Kahui, who wed girlfriend Amy Rhodes in Hamilton last month, cites rugby legend and former All Blacks skipper Tana Umaga as his biggest inspiration in developing good sportsmanship.
He carries a huge amount of mana but is humble and he played within the best spirit of the game. All of my coaches have expressed how important it is to play hard but fair and I have always tried to play that way."
New Zealand Rugby is investing $16.5 million in community rugby over the next three years. This is in addition to $8 million provided annually to 26 provincial unions to run the game throughout the country.
Brent Anderson, NZRU's general manager for community rugby and provincial unions, says Applaud is about creating a positive and fun environment for the Small Blacks.
"Players like Richard, Richie and Dan were very keen to be involved and having them as ambassadors will give it a real profile. They are not just role models for kids, but for supporters of every age."
Anderson thinks parents and fans who behave badly on the sidelines would be horrified if they could see themselves.
"If some people had a video taken of them in a situation like that they might not be keen on what it showed," he said. "Some parents would appear to need a bit of work in that area."
Anderson gave the thumbs-up to the Herald on Sunday's new Sideline Champs campaign. "Anything that promotes positive behaviour on the sidelines and fields has to be a good thing."