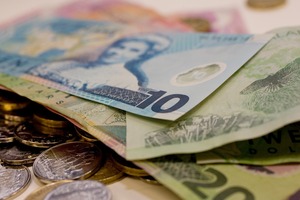 Reserve Bank assistant governor John McDermott gave an unremarkable speech in Hong Kong this week, in which he concluded New Zealand's inflation-targeting regime had been effective.
This is true, but also misleading. That's because inflation targeting, which was a monetary policy framework pioneered in New Zealand, is now widely discredited.
Central banks that targeted inflation did achieve their targets over the past 20 years, but they ignored the asset-price bubbles and buildups of household debt, and the bank leverage that eventually burst with devastating force in 2008.
In New Zealand, house prices doubled between 2002 and 2007 and households added about $100 billion of foreign debt. This was virtually ignored by the Reserve Bank, which stuck to its knitting of keeping consumer price inflation between 1 and 3 per cent a year over the medium term.
McDermott said the Reserve Bank had broadly achieved that aim since inflation targeting was introduced in 1990. He then went on to make some claims which should be challenged.
He said inflation targeting reduced volatility in prices. "That is helpful for resource allocation, affecting longer-term performance, and for macroeconomic stability over the medium term," he said.
Really? Tell that to young Kiwis who can't afford to buy their own home without crushingly high debts because of an explosion in prices. Or poorer families who are now paying higher rents because of the huge inflation in asset prices.
Or those exporters driven out of business because the kiwi is overvalued by 15 per cent, as measured by the IMF. Or those creditors looking at our current account deficit trending back over 8 per cent of GDP, despite nearly six years of slow-to-low growth. Or those noting that our GDP per capita is lower this year than it was in 2003.
It is perhaps unfair to criticise a bureaucrat for toeing his Government's line, but McDermott's speech came across as smug. His conclusion was that inflationary targeting worked fine and just needed tweaks. Yet many countries are questioning such regimes and proposing alternatives.
This week, Harvard economics professor Jeffrey Frankel wrote an obituary for inflationary targeting and pointed to a debate in the United States and Europe about moving to targeting nominal GDP, or a target for producer prices that excludes import prices.
These approaches are less vulnerable to the asset-bubble and supply-side shocks that distort inflation-targeting regimes. The supply-side shocks driving up house prices in Christchurch and Auckland, which could trigger interest rate hikes, are an example.
The sooner we shift our monetary policy goalposts the better.