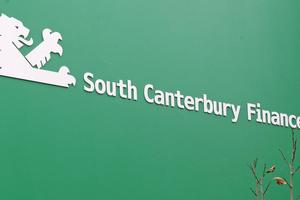 It has been an extraordinary week for South Canterbury Finance (SCF) and its driving force Allan Hubbard. It has also been a big week for taxpayers, although they may not know it.
The Government has allowed SCF to continue with its belief it can survive past the end of the Government's extended deposit guarantee next year. The company was not included in the statutory management order that pulled in Hubbard and his personal entities.
Chairman Bill Baylis and CEO Sandy Maier are now working on the hope that statutory manager Grant Thornton can conclude a deal to bring in a new overseas investor with $150 million of fresh capital. They are also assuming they can convince debenture investors that SCF can prosper without a guarantee and without Hubbard.
The hope is understandable. They are working for their shareholders but there are dangers in this for Kiwi taxpayers. The Government has already made provisions for $880 million of losses on the retail deposit guarantee scheme.
It has not broken down exactly which finance companies it expects to make losses on, but given its relative size it's fair to say the Government is expecting to wear hundreds of millions of dollars on SCF. The only questions are when and how much. Maier has done a magnificent job so far holding it together. He is our most experienced statutory manager of a big financial failure following the Development Finance Corporation in the early 1990s. But even he has an enormous uphill battle now Hubbard's reputation is under the darkest of clouds in the form of a Serious Fraud Office investigation.
Can SCF survive without a Government guarantee and without Hubbard's reputation intact? I think both are impossible.
Hubbard's promise last week to bring in a big investor by June 30 was crucial. Standard and Poor's pointed out this week when it slashed SCF's rating two more notches to B minus that this recapitalisation could be compromised or delayed. SCF is now at least six notches away from an investment grade rating of BBB-.
The danger is that SCF will continue spending money on the assumption it has a future.
Does anyone really believe that investors will stump up nearly $1 billion to invest in a junk-rated finance company? It's time for the Government to limit taxpayers' losses by winding down SCF. Putting SCF to sleep could be done by its existing board with Sandy Maier at the helm. It's time for everyone to realise the dream is over.
bernard.hickey@interest.co.nz