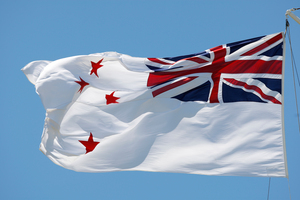 Last week was the 70th anniversary of the sinking of the HMS Exeter. A Royal Navy heavy cruiser, the Exeter served in World War II until March 1, 1942 when it sank in the Java Sea following attack. According to exetermemories.co.uk," at 11.35 Captain Gordon gave the command 'Abandon ship'."
Exeter Memories continues with: "There were 714 officers and men from the Exeter picked up by Japanese destroyers and taken as prisoners of war. They remained in a Japanese camp... where they suffered starvation, forced labour, disease and brutality."
Among those captured was my father-in-law, 93-year-old Nate, who spent 26 hours in the water before being picked up by the enemy. A notice in the newspaper back in Auckland said he was 'Missing, presumed drowned' but his Herne Bay-based mother refused to believe her son was gone.
As it turns out a mother's instincts were correct. Nate was in a prisoner-of-war camp on Macassar Island, Indonesia, and it would be three-and-a-half long years before he would hear the sweet words: "Gentlemen, for you the war is over." An ever-present threat was that if anyone tried to escape they would all be executed; beheading was the favoured method.
According to Nate, it was simply "a desire to live" that got him through those unimaginable and seemingly unending times. He is a man of very few words when it comes to communicating the details of his ordeal.
The appalling conditions are well documented. An archived letter from Chief Petty Officer Alfred Whitehall evocatively described the emaciated physical state of the Exeter PoWs: "we looked like lengths of string with knots tied where our joints were." According to a Foxton-based newspaper report from 1946, Signalman R.F. Wagner called Macassar "a Japanese hell camp" involving bamboo huts, clay floors, rags for clothes, no shoes, minimal rations and twelve-hour hard-labour days constructing transport routes. To supplement their meagre rice-based meals, they captured and ate almost anything that moved - snakes, rats, dogs and cats - simply in order to survive.
A Japanese prisoner-of-war camp is far removed from suburban Meadowbank where Nate has long resided. He's a husband, father of four and grandfather of nine whose skills and knowledge as a signalman in the war came in handy recently when my daughter studied semaphore at school.
It's difficult to believe this mild-mannered nonagenarian - a retired retailer, keen hiker, runner, gardener and family man - had been forced to dig his own grave under the watchful eye of sadistic Japanese guards. And it's kind of surreal to witness him talking about the time he cooked the camp commandant's cat as if it was only the other day rather than almost 70 years ago.