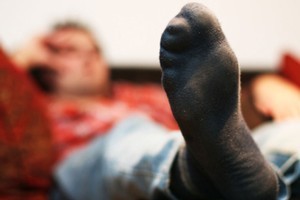 They were discussing The Jeremy Kyle Show on talkback radio one morning recently. The Jeremy Kyle Show, for those not near a television during the day, is a British chat show in which the eponymous host discusses personal and lifestyle issues with his troubled guests - whose problems can range from infidelity to deadbeat dads, to substance abuse, threesomes, paternity tests and promiscuity.
No topic is out-of-bounds for Jeremy Kyle who can be very stern and who leaves his guests in no doubt as to what he thinks of their behaviour.
It's worth watching this programme just for the sense of superiority it bestows. The guests have such train-wreck lives that almost anyone else's looks great in comparison. I've always regarded a viewing session as an instant boost to self-esteem and well-being - right up there with a cup of tea, brisk walk and hot bath.
I'm not sure why the local radio host was talking about Jeremy Kyle but a caller telephoned to add his five cents' worth to the discussion. When he admitted to being a regular viewer of this programme, which surely is a prerequisite to having anything sensible to say about it on air, the talkback host, in a disapproving tone usually reserved for criminals and directors of failed finance companies, said something like: "You must have a lot of spare time."
And there it was. Eight short words squarely defined what seems to have silently become something of a twenty-first century misdemeanour.
Where once having spare time was a status symbol and sign of affluence - or at least of good time-management skills - it is frowned upon these days. Accusing someone of having a lot of spare time is often intended as a thinly veiled insult. It's an indication of an empty life, low levels of intelligence and little accomplishment. The subtext of the talkback host's words was simply reflecting a modern day preoccupation with being productive.
It's easy to fall into the trap that we must all be frantically busy or we're wasting time, not fulfilling our potential. Technology - and the convergence of telephone, email and internet - helps us keep many balls in the air at once. Such is our devotion to multi-tasking, to not wasting a second, a law was passed to stop us texting while driving.
And if we do have free time the silent imperative is that we fill it with worthwhile activities such as running marathons, learning languages or starting a charity - not anything as frivolous as watching daytime television.
For possibly the first time in my life I'm going through a stage where I'm one of these very busy people. I have so many projects on the go that I wrote a list to help me prioritise daily competing demands.
It listed, in order: healthy eating, my daughter's equestrian endeavours, renovating a Hawkes Bay cottage, my journalism career, hosting functions as a corporate wife - and playing interclub tennis.
The showing season will be over soon and the cottage is nearing completion so my writing work will shortly rise to near the top of the list.
And I'll no doubt rediscover some precious spare time. I'll probably squander it reading trashy novels amidst the toast crumbs before rolling out of bed to watch The Jeremy Kyle Show. I can't wait.