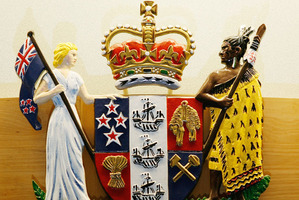 A man has been jailed for historical sexual offences against two girls - sisters who were his own children's friends.
Paul Ernest Ford, who will be 70 in July, was sentenced by Judge David Cameron to six years in prison when he appeared in Wanganui District Court yesterday.
The two complainants were aged between 7 and 8 when they were indecently assaulted by him.
Ford initially offended against the older sister, from 1978 to 1980, while she was staying overnight at his house in Wanganui. He got into her bed and molested her.
Then, between 1979 and 1981, he violated the girl's younger sister in the same way.
Ford admitted two counts of raping a girl under 12, one count of attempted rape, three representative counts of indecently assaulting a girl under 12 and two representative counts of permitting an indecent act with a girl under 12.
He did so after a sentence indication of six years in prison and no non-parole period.
The older sister, now in her 40s, sat with her mother in the public gallery yesterday and broke down as her victim impact statement was read to the court by a support person while Ford stood, uncomfortably, in the dock.
"You disgust me," she said.
At first, as an 8-year-old, she felt frightened and confused. Ford told her he would not fix her mother's car if she revealed his crime.
Feelings of guilt and shame then dominated her adolescence. She felt "dirty" and considered taking her own life.
Now a mother, she struggles to relax when her children are around strangers.
In a statement read by Crown prosecutor Sarah Law, the younger sister said she was troubled by nightmares: "I can't get those bad memories out of my head."
The girls' solo mother became aware of the offending in 2008, when her daughters complained to the police.
She said Ford and his family had been helping her out. He knew she was vulnerable.
The mother said she felt haunted by the guilt of not protecting her daughters from Ford.
In August 2001, Ford was imprisoned for nine years for the 1996 rape of a female aged 12-16 and for indecently assaulting a girl under 12 in 2000.
According to his pre-sentence report, he remains at high risk of reoffending.
Though at times expressing empathy for his victims, he blamed others for not keeping children away from him.
Judge Cameron said Ford, in his 30s at the time he offended against the sisters, had left his victims in a state of fear.
He handed down six years' imprisonment for the eight charges.
For more articles from this region, go to Wanganui Chronicle