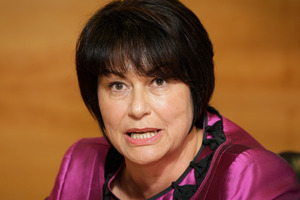 There are no plans to replicate the way Christchurch schools have been rationalised elsewhere in the country, Education Minister Hekia Parata has assured primary school principals.
But she did not rule out further school closures.
Speaking to the Auckland Primary Principals Association today, Ms Parata said other parts of the country would benefit from parts of the Christchurch "education rebuild" - such as collaboration between learning communities and sharing of amenities - Christchurch was not the model for change for school networks elsewhere.
An announcement by the minister earlier this year that six schools were marked for closure and a further 12 would be merged has been met with anger by Christchurch schools and parents. Falling rolls following the Canterbury earthquakes prompted the move.
"The circumstance that led to a review of the schools network in Christchurch were very specific and we would not want to see those circumstances repeated," Ms Parata said.
"There are no network reviews planned or on the books, as it were. That does not mean that there will not be school closures."
Ms Parata said there were around a 150 fewer schools in New Zealand than in 2000.
"The reality is there are fewer young people than there were. Shifts in structure and location of the population will continue and we will need to manage schools and access to schools to keep pace with this challenge," she said.
"The process of individual schools closing when there are capacity or performance issues, and there are more sustainable alternative options, will continue where it is warranted."
Ms Parata used her speech to "bust" some myths around education, saying it was not true that the Government was introducing performance pay for teachers.
"While performance pay has and should be discussed as we seek ways to constantly improve our system, there is no proposal at this time. However, it is worth noting that the use of management units in schools, worth on average $4000 each, is indeed a way of rewarding performance."
It was also a myth the Government planned to privatise education, and the Government's only agenda was to improve the quality of teaching and raise achievement for all children in whatever school parents sent them to.
"New Zealand has a system of diverse schooling options. The Government is seeking to introduce a small number of partnership schools to add to the mix of schooling options," Ms Parata said.
She also addressed claims that schools were underfunded saying New Zealand was in the top five countries in the OECD for education investment as a proportion of GDP.
"Schools get their funding by way of the operational grant. They make the key decisions over how they expend that. Over the last decade the Government has made adjustments to schools operational costs over and above the costs of inflation."
- APNZ