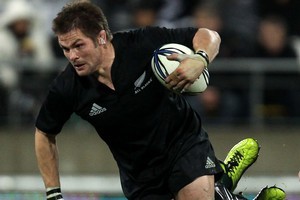 Richie McCaw has passed my record of test wins as an All Black and, with 48 matches as captain, he is fast approaching my record of 51 tests as skipper.
All being well, he'll have overhauled me before the end of the year.
People ask how I feel about Richie beating my records; I am delighted for him.
If you're going to relinquish a record, it might as well be to a guy who has an 88 per cent win rate, who is the perfect embodiment of All Black rugby, and who has won international newcomer of the year, New Zealand player of the year twice, and IRB player of the year a couple of times, too. He is, no doubt, a class act.
Even from before Richie made his full test debut in Dublin, I, like many within the game, had been watching his career with increasing interest.
I managed the under-21 New Zealand side for a while and Richie and Mils Muliaina (another class act and long-timer) were part of that team.
Even at that stage, he showed signs of leadership. He ended up captaining the side when Aaron Mauger got injured. Although Richie was still green leading a national side, he did so with efficiency and insight.
His game has continued to develop nicely. In my opinion, he is the best openside flanker in the world today; he has an irresistible combination of skills and attributes.
He is a big unit and he hits hard but he has also become a hugely effective player at the breakdown, where he seems to consistently win more ball than anyone else. He possesses the quick thinking, speed and intelligence to link play and provide continuity. He has an engine that runs at full throttle from kickoff to final whistle.
He first captained the All Blacks in 2004 against Wales, aged just 23. It is clear Graham Henry spotted the leadership potential and blooded him early, exposing him to the added complications of captaincy.
I remember eyebrows being raised at the time but, by 2006, he was the main man and ready to lead the All Blacks.
He took on the role and has grown in stature and approach ever since. It took him a while to bed in - I think it took me two or three years before I became fully comfortable with being captain of the national team - but he has matured to the point where he is a top-drawer asset.
In addition to his superb play, he has developed a good working relationship with Henry, has a clear point of view on playing mattersand is making a significant contribution to the management, development and motivation of the All Blacks.
On the pitch, the team under his leadership display a work ethic and focus that comes in no small part from the example Richie sets. Perhaps one of the key areas of strength Richie is developing is that of working with (some might say 'managing') the referees.
It is a fact of life that successful on-pitch captaincy means being able to develop a rapport with the man with the whistle, so you can confirm interpretations, clarify decisions and, inevitably, try to get the best deal for your team.
I recognised it as a core responsibility when I was captain and I worked hard to be visible, respectful and enquiring towards the ref. It might have annoyed the opposition every once in a while but, then again, they're the opposition, so no real harm done.
I see the same approach from McCaw. These days, players and referees know each other better than ever - with a small pool of top flight officials and up to 15 internationals a year, they bump into each other much more regularly than in my day, but the same principles apply.
You have to get noticed and make refs warm to you, because if you do, you can talk to them throughout the game, pointing out specific elements you'd like them to look at, or highlighting issues they haven't clocked.
It also means that when a difficult split-second decision has to be made, the referee might give you the benefit of the doubt - as I suspect happened last weekend, where McCaw survived a potential yellow card incident.
On that evidence, Richie would certainly seem to be learning the art of playing referees. Because of his position, he has to live right on the edge of the boundaries set by the laws. In that game, I saw him play some of his best rugby.
He successfully married the old and new law interpretations, his ball-grubbing was second to none, and his linking and continuity were a real catalyst.
So I admire Richie both as a player and a captain, and I will be the first to congratulate him as he passes my captaincy record. I hope that he goes on for a few more years yet as well.
It is the responsibility of every All Black, and particularly the captain, to make his own mark on the New Zealand game, and Richie is doing that in spades. And you know what I like best of all about McCaw? It is the fact that, when all is said and done, he is a pure competitor.
While we journalists, media people, rugby fans and pundits will all be looking at Richie becoming a record-breaking All Black, you sense he has his eye fixed on unfinished business. You sense Richie would trade everything he has achieved if it would deliver the Rugby World Cup, at home, in 2011.