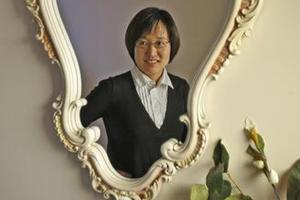 I'll never forget the moment I arrived at Auckland airport from South Korea about 15 years ago. There were some announcements blaring from the speakers about something that was going on and I was eager to hear what it was about. After all, this was the first thing that I'd heard in my new "home". But I couldn't understand a word. I know the usual story goes along the lines of "I'm going to master this language if I have to study English day and night until I become fluent ..." but I didn't panic and decided to adopt the Kiwi attitude, so I relaxed and enjoyed myself in my new country. After a few years it fell together nicely.
My first ambition was to become a movie director in Hollywood. I watched my first Oscar awards show when I was 10 and was totally mesmerised. I had never seen anything that glamorous and spectacular and decided on my future occupation on the spot. It lasted for more than a decade until the realisation finally came that I didn't have any abilities in making art.
One of the best things about my job is that there are new challenges every day.
Right now, I am trying to make an in-silico (computer) replica of human body that will hopefully behave in the same way as the real thing. It's not at all easy. But it's enjoyable and I'm learning new things all the time. Sometimes the complexity of the human body is so overwhelming.
When I've got mountains of work to get on with I always seem to start watching television. I feel guilty, but it gives me a thrill and a sense of suspense, no matter how boring the programme I'm watching is.
Failure seems to pay me a visit whenever I'm close to forgetting how the last one felt. Of course, I get depressed whenever it happens but I use it as a reminder to always look at the bigger picture. Then I realise that I have more important things in my life that are always in the right place no matter how miserably I fail in my work.
The best advice I have ever read was from American computer-science guru Randy Pauche: Brick walls are there for a reason. They let us prove how badly we want things.
When times do get tough I take inspiration from a story I heard about the native American Indians. They say that whenever they pray for rain, it always rains. What's their secret? They just keep on praying until it happens. So, the answer is to keep on asking, it will eventually be given to you; keep on seeking and you will find it; keep on knocking and it will be opened to you ...
* Auckland University scientist Dr Vickie Shim last month won the international Young Investigator Award in Germany for her computer model of the human knee.