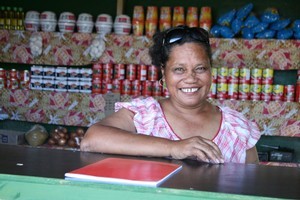 Samoa's acting prime minister has rejected claims aid donated following last year's devastating tsunami has been misappropriated.
On Monday, Campbell Live questioned how the more than $107 million of international aid had been spent, as he said many parts of the island remained ravaged one year on.
Acting Prime Minister Misa Telefoni defended the way the money had been spent.
"Every last sene (Samoan cent) and gift in-kind item has been fully accounted for," he said. "We substantially refute John Campbell's negative report especially as all this information was fully disclosed to him and (Campbell Live producer) Claudine MacLean."
Mr Telefoni said the Samoan Government's Tsunami Report had been published and would be released to the media soon.
He said the country's tourism industry had bounced back well, despite widespread damage to coastal accommodation, with the industry providing the Samoa $305 million in revenue in the last year in spite of the tsunami and global economic crisis.
"Most beach fale properties have built back better," he said.
world.
One year on from the tragedy, in which around 190 people lost their lives in Samoa, American Samoa and Tonga, the reconstruction effort continues in coastal villages.
The New Zealand Government donated $12 million to Samoa and $1.5m to Tonga, as well as deploying 150 personnel from the New Zealand Navy, Army and Air Force, and 43 medical personnel and members of the police.
A Ministry of Foreign Affairs and Trade report on New Zealand's response found while Samoa had made good progress rebuilding since the tsunami, the Tonga island of Niuatoputapu's reconstruction had been hindered due to its isolation.
The report also commended the assistance of New Zealand aid agencies and the public.
"As the Pacific tsunami demonstrated, New Zealand's commitment to the Pacific in terms of humanitarian assistance is strong and the ties between communities in New Zealand and the Pacific mean that natural disasters in the region are felt deeply by Kiwis," it said.
"One year on the recovery from the Pacific tsunami has made strong progress and New Zealand will continue to support ongoing reconstruction efforts in Samoa and Tonga."
In the wake of the disaster, New Zealanders were mobilised into action, donating clothing to drop in centres in South Auckland, supporting a series of charity concerts held across the country and donating money to aid organisations.
The New Zealand Red Cross's Samoa appeal following the disaster raised $4.4 million, with $150,000 coming from the New Zealand Government, $65,000 from the Swiss Government, $115,000 from the organisation's own funds, and the remainder, and majority, from public donations.
The organisation's international operations manager Andrew McKie said New Zealand's large Polynesian community was a factor in the large amount of donations from the public, as was the nature of the disaster.
"I don't think we'd have had this response if it had been a tropical storm. After 2004, tsunamis have a bit of a mystique."
Mr Mckie was last in Samoa in January, but said even then there were signs of people getting back to normal.
In the organisation's initial emergency response and recovery operation, $1.3 million on items such as blankets, tarpaulins, first aid kits and water and sanitation programmes. The Samoa Red Cross is now engaged with communities in disaster risk reduction and first aid education.
Oxfam New Zealand's Samoa appeal raised $1,470,000; $863,000 from public donations (including $19,275 from Oxfam Canada and $109,014 from Ofam Australia, and $606,500 from institutional donations, including the New Zealand Aid Programme, German Government and Canada Fund.
Oxfam mobilised trained staff immediately after the event to ensure people in the worst effected areas had clean water and sanitation. Oxfam's Samoan partner organisation Women in Business Development continues to support Samoa's recovery effort through organic agriculture, improved access to markets and increasing income-earning opportunities.
"This tragic event will be long remembered by Oxfam, not only because of the extent of the devastation, human displacement and loss of life that it caused, but also because of the generous response from partner organisations, governments and the public in the aftermath of the emergency," Oxfam's executive director Barry Coates said.
UNICEF's appeal raised $120,000, with the organisation's focus in Samoa on emergency response. This work was in three areas; water and sanitation, health and nutrition, and education. Following the emergency response phase, UNICEF's aid efforts continued with a programme to provide play equipment to kindergartens, as well as ongoing work in the areas of health and child protection.