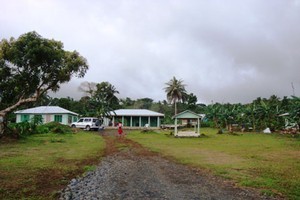 SALEAPAGA - Drive into the village of Saleapaga today and you would think the village had been there for decades.
There are three village stores, a small copra mill, a tiny construction operation making cement bricks and countless sturdy homes made of concrete and wood.
There's a school that is a few months away from completion and a village hall, and in front of it is a small playground for the kids.
It's a full fledged village complete with running water and electricity.
This is Saleapaga Uta, which a year ago, was merely the plantation area, where families from the coast would plant crops to feed their families during the week.
Today it's as good if not better than any other village in Samoa, it's residents are survivors of the tsunami.
No one lived in the plantation before, it as a safe 45 minute walk from the coast and it was in the mountains.
"There were no houses here, and no one wants to live in a mountain when you have land near the ocean" said Sagale Sagale who now lives in the heart of the new Saleapaga Uta village.
There was one man, whom the villagers referred to as the fool, who built his house in the now new Saleapaga village.
"We all thought he was crazy when five years ago he built his house up here, but then the tsunami happened and well, he had the last laugh because he was the only one with proper shelter," Sagale said.
Sagale who lost his wife Taua in the tsunami moved his whole family up the mountain and started to make it their home.
They started with makeshift housing, a tarpaulin or two to house the clothing and the few bits and pieces they received from aid and helpers after the tsunami.
A few weeks later they were living in shacks made from trees on his land, and today his family are proud owners of two two bedroom houses and an open fale for family meetings.
"We have come a long way," Sagale said, looking out from his fale.
"Just a year ago we were living under tents and now look, we have established ourselves and our whole village is back up and running," Sagale said.
A few people venture back to the coast to fish, but Sagale says everything they need is now in the new village and there is no need to leave the mountain.
"We're safe here, we're happy here," Sagale said.
The grave of his wife is located in front of the main fale, a painful reminder of the events that happened this day a year ago.