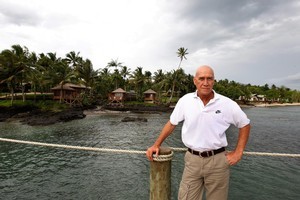 Tsunami survivor Tuatagaloa Annandale stands on a jetty and points out where the wave destroyed much of the life he had built with his wife.
Luxury seaside rooms at Sinalei Reef Resort and Spa were washed away and the waterfront bar and restaurant was wiped out - all up, more than $5 million worth of damage.
The wave was so high that sea water poured into the swimming pool, about 10m above sea level. Even his five-tonne boat was plucked from its mooring to rest at the top of tree.
Not that any guest to the five-star accommodation would notice today. Better known as Joe, Mr Annandale has worked tirelessly to restore Sinalei. But he has had to rebuild without his wife of 40 years, Anna Tui Annandale, who was with him when the tsunami belted into their vehicle. He survived, but she was swept away.
The couple bought the bush-clad section on a "shoestring" budget and transformed the property into a beautifully landscaped resort where many New Zealanders have stayed, including Helen Clark following the 2008 election defeat.
The last 12 months at Sinalei without Tui have been difficult, says Mr Annandale.
"She was the creative force behind Sinalei and the driver of pretty much everything here. In rebuilding the place, we often find ourselves asking, 'What would Tui do?' And we pretty much do that," he says with a smile.
He is proud of how Sinalei has been rebuilt from the ground up - and is sure Tui would be too - and now has plans for further expansion in Samoa.
More villas will be built at the current site and plans are afoot for another Sinalei in Savaii.
"That's the thing about a disaster. After the initial shock, you are invigorated with ideas. And if you're going to rebuild something, why do it the same? You do it better."
Tourism in Samoa has been challenging, Mr Annandale says Sinalei has had an 80 per cent occupancy rate since reopening in April.
"How much of that is sympathy, support or curiosity, I don't know. We certainly got a lot of exposure in Australia and New Zealand after the tsunami."
The couple went to university in the 1960s, Mrs Annandale in Auckland and Mr Annandale in Wellington, where he also played rugby for the Oriental club.
The couple returned to Samoa after finishing their studies, married and then ran a planting and landscaping business before building Sinalei.
Of Samoan and Scottish heritage, Mr Annandale is also a chief of the nearby village of Poutasi, which was also badly damaged in the disaster.
He is proud of how his people have been stoic in picking up the pieces.
"The tsunami was a calamity and of course there is sadness. But we just get on with the job."