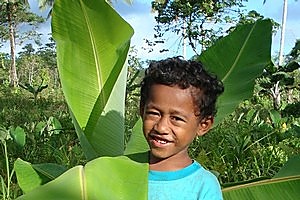 Paneta Sagale shouted out the hardest goodbye he ever had to utter in his life, amid tears, shock and a great onset of grief, to his 6-year-old son Seti Paneta as the wave ripped him from his arms.
"I could see his head pop up and down while he was being dragged away. I had to save myself another child who was in my other arm," Paneta said.
Then Paneta ran as fast as he could up the mountain away from the devastating tsunami that hit Samoa last year.
"I could not hold back my tears, my son was gone, and in a strange strange way all I could think of was to say goodbye, because I couldn't do anything else," Paneta said.
But Seti, the 6-year-old, was not meant to die that day.
He was pulled into the mighty wave along with houses, cars and every man-made structure caught in its way, but miraculously he was not hit.
He was merely underwater for minutes at a time, and due to his weight, floated most of the time.
"I was scared, but it was like a ride," Seti told nzherald.co.nz.
Seti, who grew up by the ocean, was channelled along with debris by the wave into the river of the village of Lepa and into the depths of the canyon.
And there he fought to survive.
"I saw a banana trunk and grabbed a hold of it because it floated," he said.
His banana trunk made it halfway back to the village and there he began shouting out.
"I called for my Dad, I called and called and I cried but I kept calling because I was scared of being alone in the river," Seti said.
His calls were soon heard by survivors who were also scrambling near the river, and someone jumped into the water and brought out the heroic little boy.
Paneta said he could not believe his eyes when Seti ran up to him.
"It was like a miracle," he said.
But the next few months were not easy for Seti, who was traumatised by the experience.
Paneta said that for many nights after the tsunami Seti would wake up screaming "tsunami" or shouting for his father.
"It was hard, but we made it through," Paneta said.
When I saw Seti two days ago in the mountains of Saleapaga where his family now resides, he was playing with other children on the swings, he was happy and laughing.
The nightmares are gone for Seti, whose story will be told for years to come.
He is in Year 3 now at Saleapaga Primary School and he says he is eternally thankful for one thing.
"I am happy that I know a banana trunk floats in water," was all that he said.