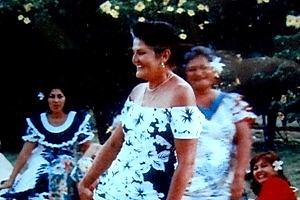 She was wearing a red floral skirt and a white blouse when I saw her last, she was smiling, as she usually does, as that was Tui's trademark, her smile and her calmness.
There were no special words - it was just another meeting of the ladies on a sunny afternoon.
There was a lot of laughter, it was Peace Day by the United Nations and the women's group was celebrating the event as we do every year.
Tui was the Vice President of the Pan Pacific South East Asia Womens Association (PPSEAWA), and her speech was inspiring.
"It is the woman who is the advocate of peace," she said.
Tui was happy. She had been elected as president of the organisation in 2010 and she was excitedly talking about her plans.
She wanted more scholarships for young girls in primary schools, she wanted to empower rural women to earn from sewing, planting or making handicrafts.
She had already worked on projects to improve the lives of women from her village of Poutasi.
She was looking forward to doing more.
But that was the last time I saw Tui. We were never to see that smile again as a week later Tui died while trying to escape the tsunami that tragically hit Samoa on September 29, 2009.
I was standing a few metres from what remained of Tui and Joe's house when I found out we had lost a friend that morning.
What remained of her house and the village broke my heart, and as I walked away from the ruins I stepped on some glass. It was a broken framed photo of Tui in her twenties, smiling.
This was the image that her family and friends shared last week, almost a year later, during the memorial of Tuifeaomalo Anna Schafaussen Annandale, the wife of Tagaloa Joe Ananndale: a friend to many, a former Miss Samoa, a Miss Universe contestant, a hotel manager and most importantly an advocate for the advancement of women in Samoa.
"I miss her still," said Freida Paul during her speech at the memorial, a long-time best friend to Tui.
"I first met Tui when she was a little girl, she was our neighbour," Freida said as she recounted fond memories.
Freida, who was a fashion designer back then, designed Tui's clothes during her reign as Miss Samoa.
"She was a beautiful person both inside and out," she said.
The memorial was attended by the Head of State, Tuiatua Tupua Tamasese Efi, and Masiofo Filifilia, both close friends of Tui.
Deputy Prime Minister Misa Telefoni was also present along with more than a hundred of Tui's friends and family.
"Tui will always be remembered as an advocate for women, as the beautiful person that she was," said Papalii Dr. Viopapa Ananndale, Tui's sister-in-law and friend.
As a tribute to Tui an award - the Tui Ananndale Leadership Award - was established for the best female student in Year 8 at the primary school in the village of Poutasi.
Pictures of Tui from her days as Miss Samoa and her work with women were displayed on a big screen as one of her favourite songs, At Last by Rod Stewart, was played.
Though I tried not to, I could not help but shed a tear for Tui. Her work made a tremendous impact on those she knew. Her commitment to the cause of women's empowerment was obvious. Her love and passion for the Samoan culture will remain with her family and friends, and with the women of her village of Poutasi for many years to come.