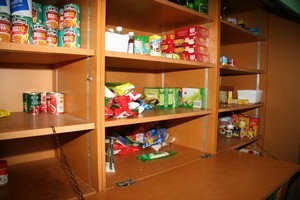 Thieves have bitten the hand that feeds many of Northland's needy.
The Salvation Army's Whangarei storage shed has been broken into and more than $2000 of nappies, cereal and baby food stolen.
Salvation Army director of community ministries Peter Mullenger said the theft, which occurred on Monday evening, had put a serious dent in their ability to assist the less fortunate.
"I just get annoyed they've stolen from the Sallies. This has been a real kick in the guts," Mr Mullenger said.
Police have taken fingerprints and footprints and are following strong leads.
Going by the footprints left at the scene, it appeared more than one person had been involved in the break-in.
The burglars used a brick to smash a louvre window and - despite the alarm going off - climbed inside and helped themselves.
Some of the stolen items would have formed part of the 235 Christmas hampers the Salvation Army was preparing to give out to needy families in December, Mr Mullenger said.
"What frustrates us is that this is food we give out daily. They are stealing from their neighbours, so to speak, taking food from those that we try and help.
"This [theft] just means that we can't assist families with the depth that we'd like to. My annual budget is $15,000 but we gave out over $300,000 worth of stuff if you go and buy them," Mr Mullenger said.
"We'll just work harder and door tap for more donations."
The Salvation Army's Bridge Programme office on Alexander St was also broken into on Sunday evening but nothing was stolen.
Mr Mullenger has urged the public to donate items such as baby food, nappies, cans of fruit and tinned vegetables, if they wish to help.
Constable Paul Overton said police were following strong leads.
For more articles from this region, go to Northern Advocate