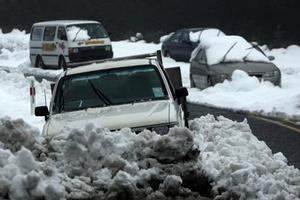 Farmers in the Hawkes Bay are bracing themselves for another dumping of snow after being caught out last week when up to 50cm fell in some places.
MetService has issued snow warnings today for the Hawkes Bay, central North Island, Marlborough and Canterbury.
Forecaster Oliver Druce said a low over the Tasman Sea is set to move across northern New Zealand while a band of heavy rain lies across the top of the South Island.
Mr Druce said Hawkes Bay could see snow as low as 500 to 600 metres and 10 to 15cm of snow could accumulate above 700m.
Federated Farmers Hawkes Bay president Kevin Mitchell said farmers are watching the forecasts with "a bit of trepidation".
He said there is still snow on the top of the hills from the snowfall earlier this week.
"The guys at the top won't be wanting more of that," Mr Mitchell said.
He said sheep farmers are still lambing and cattle farmers are calving.
His colleague, Will Foley said earlier this week that farmers in the high country may have lost 200 lambs each and with prices at $70 a head, the costs of this week's snow could run into the thousands.
Mr Mitchell said two dumpings of snow do not often come within a week of each other, especially in October and he hopes MetService is "over-reacting".
"We can't do a lot in the high country. You set the farm up at the beginning of the season and put the most sheltered blocks aside for the ewes," Mr Mitchell said.
He said lambs can't walk a long distance and farmers can't move thousands of them at short notice so often rely on natural instincts for the animals to head for shelter.
Earlier this week over 600 motorists were caught on the Napier Taupo Highway in a snow storm. Some had to be rescued by army unimogs.
Meanwhile snow has already begun to fall in low levels in parts of Marlborough and Canterbury and is expected to continue through-out today.
Up to 35cm is expected in areas down to about 400m today with lesser falls down to 200m.
Mr Druce said many South Island roads will get snow, especially the road to Hanmer and Lewis Pass, Porters Pass and Arthurs Pass as well as the roads near St Arnaud and State Highway One south of Kaikoura.
Canterbury Civil Defence Emergency manager Jon Mitchell said motorists should keep a blanket, some non-perishable food and a bottle of water in their car.
"We don't want a repeat of what happened in the North Island," Mr Mitchell said.
He said people should carry a few provisions in their boot so if they are caught out by an emergency situation, they can look after themselves for a short period of time.
Mr Mitchell said a few muesli bars and a bottle of water kept out of the sun would be a good start.
Meanwhile, Wellington police today warned motorists to take extra care on the roads as heavy rain pounded the capital this morning.
A central police communications spokesman said the heavy rain and surface flooding had been a factor in several small accidents and urged drivers to drive to the conditions and watch their following distance.
Trains were also being affected by the downpour, with a service running from Johnsonville to Wellington city train being replaced by buses because of flooding.
- with NZPA