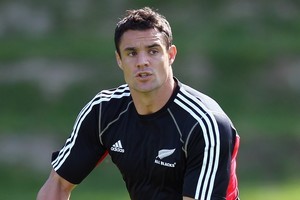 You could have knocked me over with a feather when news reached Sydney yesterday that All Black Dan Carter had suffered a Rugby World Cup tournament-ending injury. At first I thought, "They have got this wrong and mean just the one game against Canada." But news item after news item was led by the confirmation even on league grand final day here across the Ditch.
Texts started to flow as the reality of losing arguably the tournament's most valuable player began to sink in.
And for all you Kiwis wondering how the news went down over this side of the Tasman, can I say sincerely that every Aussie I communicated with was genuinely saddened for Carter and the All Black team.
He is a magnificent yet humble team player and, like his captain, deserves his day in the spotlight.
His loss will have rocked New Zealand but, in an entirely different way from the human disasters of early this year in Christchurch, it can also serve to galvanise the squad.
I have no doubt that Carter can still play an unofficial off-field role in supporting the team in many ways, the obvious being mentoring his understudy Colin Slade and advising senior players and the coaching group.
But the last thing the All Black squad needs to hear right now is from a doubting nation conceding effectively that "here we go again, dominating the game between World Cups, but the stars have yet again somehow aligned against us at this crucial time every four years".
As I have maintained throughout this year, the All Blacks individually and collectively are the best team. They just need to get the processes done and let the scoreboard look after itself as they have done brilliantly thus far in this tournament.
They cannot afford self-doubt now as that can lead to becoming desperate to win and becoming what they can't afford to be - scoreboard focused.
I have always maintained that to win a World Cup you need many things but one critical feature is depth in your playing squad.
The All Blacks have it in spades, but I just don't know enough about Carter's understudy Slade to be able to make a true judgment of his all-round skills and abilities especially in sudden death tournament rugby.
One thing I do know, however, is that every previous six teams who have triumphed in World Cups have had a pivotal and highly experienced No 10 steering them around the paddock.
Twenty years ago when my team lifted the Webb Ellis Cup we lost one of our standout forwards two weeks before boarding the plane. Our No 8, Tim Gavin, had become crucial to our success in Wellington in 1990, ending the mighty All Black record run of consecutive victories.
Gav went on to play brilliant rugby domestically in Australia in 1991 and was outstanding in massive wins against England and New Zealand in Sydney months before the World Cup commenced. My key 8/9 partnership with him was never stronger, yet weeks before the cup began he suffered a knee injury. I felt dreadful for Gav and when we celebrated a few months ago at our 20-year reunion I still felt terrible for him - he was invited, but declined. But you have to accept the reality and move on and adapt.
Bad news by way of injuries in sport is one life's inevitabilities. In fact I reckon half the New Zealand population was in some way expecting something like this to happen. You were just saying as long as it's not Richie or Dan. Well it is, and your squad now have an opportunity to show the rest of the world exactly how good this group in 2011 really can be.
Carter will be a huge omission. Just like Michael Jones was when we triumphed in the 1991 semifinal on a Sunday when Michael's commitment to the Sabbath kept him on the sidelines. But unlike your '91 team, this 2011 side is still ahead of the pack.