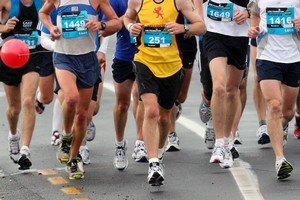 Blenheim is well known for being a true rural community, so it makes sense their local running event is staged at the iconic Wither Hills Farm Park.
The working sheep and cattle farm, which covers 1100ha and extends the full length of the southern boundary of the Blenheim urban area, hosts the King & Queen of the Withers off-road 10km run and walk today.
The park boasts an extensive network of tracks that run through tree-lined valleys and provide breathtaking hill-top vantage points overlooking Blenheim, Wairau Basin and the North Island.
The oldest trophies for this event date back to 1977, making this morning's race the 35th anniversary, but the organisers have changed its structure to widen its appeal.
"For a long time this was solely a running event, but times have changed and now more people are looking to do different things for health and fitness," said event organiser Steven Olsen of the Marlborough Harrier Club, which was founded in 1933.
Men's and Women's walking events were introduced in 2003, followed by hybrid (run and walk) events in 2009, and now these events attract larger numbers.
The King & Queen of the Withers regularly attracts between 100 and 125 entrants. Other categories such as Business House teams (three-person combined time) and Married Couple teams (combined time) have been added and there are plans to set up the "Prince and Princess of the Withers" to include the kids.
Three events are on offer today: the 10km Offroad Walk, the 10km Offroad Run and the 10km Offroad Run & Walk.
The main running events are hotly contested mostly by locals, but the last couple of years have been won by visitors. Local favourites in the Vet Men are the likes of Ian Thomas, Billy Hebberd, Ben Minehan, Kevin Ellis and John Kennedy.
Favourites in the Vet Women's field are Rachel Monk, Almuth Waechter, Kate Parsons and Suzie Aviss.
The 10km hill and trail course has changed several times since the early days when Blenheim was a quieter town, but the test remains the same.
"It is a challenging course with several short, steep climbs early on, undulating through the middle stages, steep long downhill and flat section to finish," said Olsen.