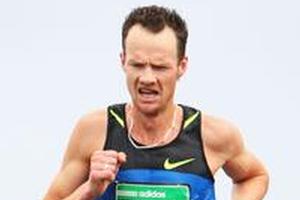 Dale Warrander is keen to indelibly stamp his mark on the Rotorua Marathon after sweeping to his fourth victory on Saturday.
The 36-year-old, based on the Gold Coast, emulated the great Jack Foster by being the only two athletes to have won the iconic event around the shores of Lake Rotorua four times.
Warrander said it was a great honour to match Foster's triumphs.
"Awesome. He's an absolute legend that guy, it's nice to be in that league knowing I've won four Rotoruas.
"I now want to come back and get that fifth one though. Maybe next time I want to be in the best shape I've been in to have a crack at a real good time, I want to break 2h 20m so next time hopefully I'll be in better shape," said Warrander.
"I want the outright lead of five wins in Rotorua, that's my big goal before I retire.
I've only got a few more years left of competitive running."
Warrander ran conservatively from the start, allowing Rotorua local roofer Steven O'Callaghan to set the pace. O'Callaghan, who had victory dramatically snatched from him metres from the finishing line last year, led through the 5km and 10km marks.
He was accompanied, leading into the notorious hill section at the back of the lake, by Warrander and Japanese runner Tsutomu Saeki.
The next group consisted of Ben Ruthe, the Macdonald twins Iain and Kyle, and Cantabrian Glynn Hadley.
Coming off the hill O'Callaghan held an advantage over Warrander and Saeki.
Ruthe called it a day at 27km and the Macdonald twins drifted back and out of contention.
By 37km Warrander and Saeki had overhauled O'Callaghan. Saeki, second in 2007, took advantage of Warrander cramping and set sail at 38km for the finish in the Government Gardens in the 46th annual event.
But Warrander had not quite finished and he regathered his strength to pass Saeki 1km from the end.
Warrander recorded 2h 26m 54s, 15 seconds ahead of Saeki with O'Callaghan coming home third in 2h 28m 57s.
"I just wanted a win, I wasn't worried about setting a fast time. I'm not in the best shape I've been in, I've found it really tough this summer in Aussie getting used to the heat," said Warrander.
O'Callaghan said that he tried and ran an honest race."If you don't give it a good crack you only wonder what would have happened."
Rotorua's Johanna Ottosson, who has been in the country for nearly nine years after coming from Sweden, ran a controlled and consistent paced race to win the women's section.
Ottosson, 36, recorded 2h 50m 19s, nearly six minutes ahead of Victoria Humphries of Wellington who was second for the second year. Lesley Turner Hall of Auckland was third in 2h 57m 5s.
Ottosson said the win was a triumph for her, coming back from a major knee surgery two years ago after falling off a trail bike.
"I went out with a plan and stuck with it," she said.
Humphries, 46, worked hard all the way in her third marathon.
"I couldn't have gone any faster today," she said .