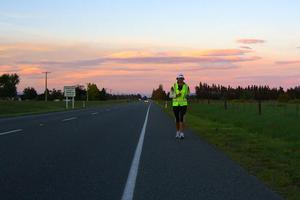 Kiwi ultramarathoner Lisa Tamati, now more than half way through her eipc run, says she's now well into the rhythm of daily long-haul running.
The New Plymouth woman is running 2,200km in 33 days - the equivalent of 52 marathons, from Bluff to Cape Reinga.
Injury problems while running up the east coast of the South Island caused some early concern, but Tamati now says it would be strange to begin a day without immediatelly hitting the road.
"21 days of continuous running its unreal really I'm half way through my schedule, and I have a real routine going now, I can't even imagine not getting up and putting my running shoes on and running 50km, its became a little like a job. But a painful one hehe."
Tamati's route will take her to Auckland airport, where she will catch a plane to Kaitaia, before starting to run south from Cape Reinga.
The plan is for her to complete the mission in Auckland City on December 3.
Her daily blog says that public support for the mission is growing by the day, with donations and car-horn tooting increasing.
Tamati has, however, had to issue a message to those people - including exuberant school kids - who want to run a few kilometres with her. Slow down please, and remember she's already run a long way.
"It was great to see the Eltham and Ngaere primary school kids today, the kids are always so full of energy, and I'm sure they think I'm slow," said Tamati.
"I have to keep reminding them that I have run over 1300 kilometres, and I have got a reason to not be skipping and sprinting up the road with them."

Tamati is raising money for two charities through the event, CanTeen (for teenagers and their families fighting cancer) and Curekids (dedicated to finding cures for illnesses that affect children).