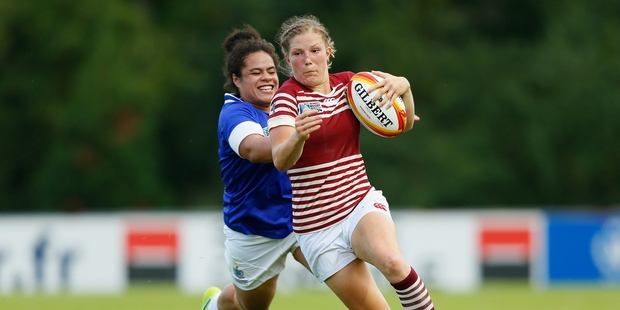 Pool A
England
They won the title in 1994 but have been losing finalists in the past three tournaments. Won the Six Nations from 2006 to 2012 with six Grand Slams. Twelve of the squad have more than 50 caps and they boast one of the most experienced sides in the competition. However, after finishing runners-up in the Six Nations and a test whitewash in New Zealand, there are question marks over whether they can win the trophy for the first time since 1994.
Canada
Genuine contenders. They won the CanAm series against the US and fared well in New Zealand last month, beating Australia 22-0. Canada have finished fourth three times in a row since 1998 and were runners-up four years ago. Many believe they will finish second behind England but will need big victories against Spain and Samoa to gain the final semi spot.
Spain
Will struggle. They have never defeated England in nine attempts. Missed out on qualification four years ago, mainly put down to the 2007 decision that the women's Six Nations would mirror the men's game and Italy replaced Spain. They have been in and out of the World Cup since 1991. Not expected to get past the group stage.
Samoa
Will also find the going tough. They lost 90-12 against New Zealand in Auckland last month. Missed out on qualification for the 2010 tournament and finished 11th in 2002. The team had to hold fundraisers for the players and staff to travel to Paris.
Pool B
New Zealand
Overwhelming favourites. They have won the last four competitions and beat England three times last year. In great form after victories over Australia, Canada and Samoa and a 3-0 test whitewash over England last summer. The women's sevens team have back-to back World Cup victories as well.
United States
Could cause problems. Beat Wales 10-7 last month, and defeated Ireland in WRWC 2010. They won the inaugural Women's World Cup in 1991 and finished runners-up in the following two. However, they have missed out on the semifinals in the last three World Cups.
Ireland
The most improved side in women's international rugby, having won a first Six Nations Grand Slam in 2013. They have climbed up the world rankings since the 1990s and their highest finish in a World Cup was seventh. Funding could be a hindrance but a place in the semifinals is not out of reach.
Kazakhstan
Do not play the top sides enough to challenge. They did, though, win the Asian Four Nations tournament in May. Have featured in the last five World Cups, but have not progressed from the group stage in every one. Will struggle to get out of the group.
Pool C
Australia
Who knows? They were third in 2010, but have barely played since, with the Australian Rugby Union concentrating on sevens. Not much is expected of them, so progression would be a bonus. However, they suffered two defeats in their warm-up matches to New Zealand and Canada, so qualification through the group stages will be difficult.
France
The pressure is on them; the host nation and Grand Slam winners this year after surprisingly beating England. More comfortable playing at home. Consistently good performers at World Cups but have never reached a final. Out of all the nations taking part, the French are the most likely to beat England or New Zealand if they have to play them, but would still be classed as underdogs in those matches.
Wales
Unlikely to be in the mix. They won just one match in this year's Six Nations and have only beaten France three times. Always promise great things at a World Cup but always fail to deliver. They have never finished higher than ninth.
South Africa
Not the force their men are. They have beaten Wales twice in five matches but have never beaten France or Australia. They made their first appearance in 2006 and finished in 12th. It could be a short World Cup for the Springboks.