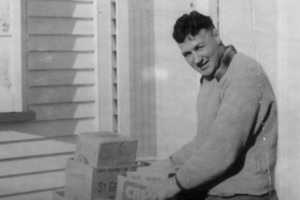 Kevin Skinner was a bit before my time but had an indirect influence on my career and, indeed, many others. I grew up in the 1960s and 1970s so it was Pinetree Meads I can best remember as a kid.
As far as I recall, players used to jog or stroll to the lineouts and scrums, which would take place at approximate places, and a big part of the operation was finding ways to 'disrupt' the opposition.
That's kind of how it was when I began my career. Men like Meads and Skinner, and plenty of others, created a blueprint. Selectors were interested in hard-nosed individuals, men who would never go backwards. Men like Gary Knight, John Ashworth and Billy Bush, they were hard as nails and, by the time I left school, I had a pretty clear idea about what type of qualities I needed to exhibit.
I played my first senior club game when I was 17 and found myself up against Ashworth, who had just come back from an All Blacks tour. He sat me on my arse a couple of times and that's how you learned back then.
It did me good. When I played for Waikato, I had that mentality of wanting to play for 80 minutes and wanting to dominate.
My coach for much of my time there was the now sadly-departed Farrell Temata. He was a hard bastard, and he made it clear we were there to win - that we were to do whatever necessary to achieve that goal.
As a front-row forward then, you operated in dark places, did all the thankless chores and set a platform.
There was that whole culture of self-policing as well which usually enabled the game to flow without the need for the referee to get involved. I remember playing club football in France when the opposition No6 was making a bit of a nuisance of himself, so I took it upon myself to fix that and he left the field. They brought on a replacement who looked a bit tubby and out of shape to me and, somehow, curiously, ended up scrummaging against me. I didn't think he'd be able to handle himself but at the first scrum he put me in a headlock and the flanker managed to boot me a couple of times in the guts.
I looked across at the touch judge and he looked back and, when I had a beer with him after the game, he basically said he saw the whole thing but thought it best to let it go. Justice was served on both sides and he was right.
I wouldn't want to say the game was better back then or anything like that. The culture was what it was and I loved it.