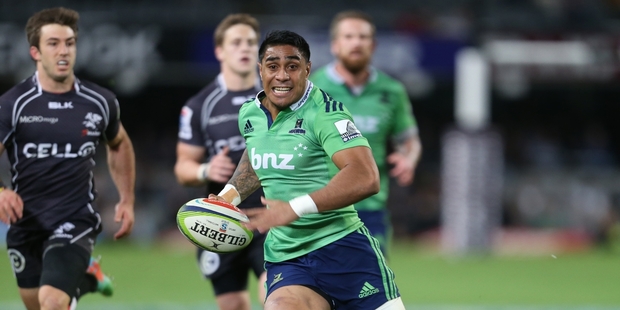 Let's compliment the Highlanders on the way they approached the game against the Sharks.
They struggled through their set piece and it cost them the game. However, I sat back and watched in admiration as I thought they were the better team over the 80 minutes.
All of the points the Sharks scored, apart from their try through wing Tonderai Chavhanga, originated from their set piece. Will that be enough to beat the Crusaders? I'm not sure it will be.
For the Highlanders, they should be proud of what they achieved this season and at Kings Park yesterday morning. The tries they scored and the breakout runs they made were outstanding.
I fear for the Sharks' hopes in Christchurch. They look like a team with a game plan - smashing people up front - but little else. They outmuscled the Crusaders in their round robin match and you would think that would be their approach again.
Their defence was memorable that night at AMI Stadium, when they won despite playing with 13 men for a large part of it. It was outstanding. But they lack imagination. They resort to big runners going straight at you. There's no subtlety. The Highlanders were creative and imaginative; the Sharks were full of pure brutal physicality and I don't know if that will be enough against what is virtually an All Blacks forward pack.
The Chiefs' defeat to the Brumbies was indicative of their season. For me they have shown promise all year and they showed promise in that game too, fighting their way back into it, only to come up short. No one can question their heart, which took them to their two titles, but to a great extent they were their own enemies in the way they conceded points, penalties and a sinbinning. Those mistakes made it a hard night for them.
They will get a bit of X-factor back with Sonny Bill Williams' return and will look to have more clarity among their back three. The development of Liam Squire and Brodie Retallick has been excellent. Their front row is strong. They still look in a good place, but they lacked spark and I wonder if they were a bit tired this year. Their big loss to the Waratahs in New Plymouth was a pivotal one. It meant they had to travel in the playoffs, whereas they have shown over the last couple of years they are so hard to beat in Hamilton.
Both qualifiers were great games. I was expecting arm wrestles. Traditionally when you're the visiting team you try to negate the crowd and try to drag the game down a bit. But both the Chiefs and Highlanders went in with open minds and a nothing-to-lose attitude.
It will be interesting to see how the Crusaders approach their semifinal against the Sharks. Jake White's outfit would be foolish to try an expansive game, but that's something the Crusaders might try. They have shown in the last month that they look a much better side when they do. They won't be out for "revenge"; it's more about righting the wrongs, making sure you throw the punches you didn't in the first fight. That's what rugby is all about, asking questions of the opposition, whether that's in the set piece, phase play or kicking game - doing everything you can to get an advantage.
They didn't ask enough questions last time. They were lured into a game they didn't want to play and they paid for it.