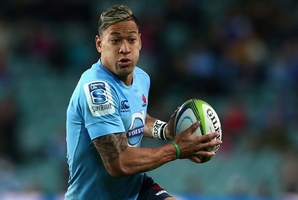 I have been on holiday in Australia for a couple of weeks where I got the impression there's a fair bit of confidence brewing.
The Waratahs have captured the public's imagination and the Brumbies have done well enough to bolster the belief that the country's rugby fortunes are turning.
I'm not so sure. The Waratahs have played well. The Brumbies have, too, but that's not reason enough to start thinking that will be reflected in the Wallabies' performances.
Where I think the Wallabies will be dangerous, and this is what we can see in both the Waratahs and Brumbies, is out wide. Both teams have been good all year using their midfield to release the back three.
They run straight and they run hard and in Israel Folau, they have a player who can cause a lot of problems.
I look at his running metres each week and am amazed. He carves up the ground and he's just so good when given space.
The other player who has impressed me is Kurtley Beale. He has changed his ways since moving back to Sydney and is playing with a lot of confidence. I saw Beale play the other day when Folau wasn't there and he just took control of the game from second-five.
The composure and accuracy of Bernard Foley at first-five has been a feature of their revival as well. He's not the most spectacular player and isn't going to set the world on fire. But he does everything a first-five needs to do and he does it well enough to give a platform to those outside him to play their natural game.
But Super Rugby is not test football, and while Australia clearly have some dangerous outside backs, I'm not sure that their tight five is combative enough yet. When the Australian sides play each other, they scrummage well enough and their lineouts are good.
Up against New Zealand or South Africa players, though, I don't think they ever handle themselves as well, particularly when you get to that third or fourth phase.
That's when the New Zealand and South African players have an advantage to my mind as they are more combative and aware.
Australia have a couple of good loose forwards but too often they get isolated and are easily diffused in tests, as the All Blacks have shown many times.
Michael Hooper is a tough nut, throws himself into everything and gets smashed about ... but, like David Pocock, he's not always as well supported as he needs to be.