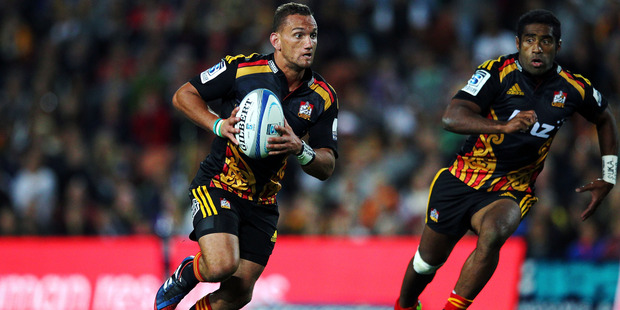 The Chiefs are hanging on by one stirrup and the horse is starting to bolt.
It is no exaggeration to suggest the situation is dire and the Chiefs' chances of clawing their way to safety and a continued ride in defence of their Super Rugby crown, is grim.
Sheriff Dave Rennie has burst through the doors of the Last Chance Saloon to deliver a reshaped side for a duel tonight in the prairie in Hamilton. He has censured his men, spun the roulette wheel and sent them out with two bullets in the chamber. Both have to count, tonight against the Canes then next week against the Blues, otherwise the Chiefs are heading to Boot Hill this season rather than Threepeat Station.
Somehow, the Chiefs have to drag themselves back into the saddle to ride their rugby steed with all their skill and determination.
When referee Nick Briant blows fulltime about 9.15pm, the questions around Waikato Stadium and the Chiefs' compound will not be about method, they will be all about the result on the electronic scoreboard.
It has little to do with how and all about how many. Are the Chiefs still defending their crown or have they kicked that sequence into the nearby river?
In the first half of the series the Chiefs tacked several unlikely draws in Pretoria and Bloemfontein on to their results chart with a solitary defeat in their opening seven games.
In recent times those margins have gone the other way with five defeats in their last seven matches.
The snap disappeared, cracking five-eighths Aaron Cruden took an enforced spell with a busted thumb, others flatlined and the Chiefs found it tough to restore their equilibrium.
As soon as one part of the side was caulked, another leak appeared. With each loss a little more doubt entered the ranks and everyone probably started to overthink his work. The Chiefs have been a little cluttered or a bit edgy about their work instead of going out to play and working hard for one another. That uncertainty has filtered into their defence, which has yielded too many chances.
There will be no let-up tonight as the Canes will challenge every one of their hosts' pressure points with their bonus point victory target.
The Chiefs' staff will have sifted their vast array of experiences and distilled them into a basic hit list for the champs. They have overcome adversity before, this is another chapter in that playbook.
This is no time to get complicated. The trick will be sending the players out with clear, bold plans about their duties and an uncluttered positive attitude about their pedigree. Assistant Wayne Smith watchedthat turnaround when he waswith the Crusaders.
"Don't know why it turned around but it did and went from being hopeless to being unbeatable in a short space of time so I know it's only going to take one good result and we'll be back on the horse - but it's getting pretty late in the season."
There's that steed again, will it be a stallion or a pony, Chiefs or Canes livery tonight?