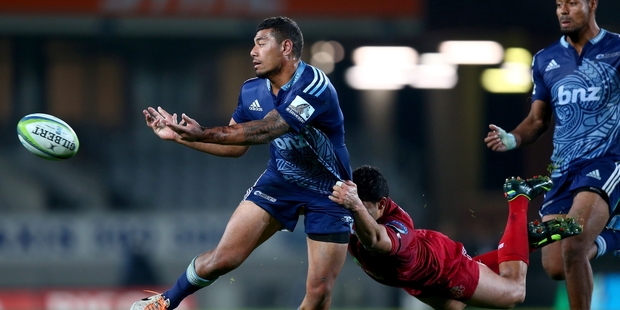 There's a light and dark shade for Charles Piutau about rugby in New Plymouth.
He made his All Black debut there last season and on the same ground several months ago, damaged knee ligaments on the cusp of selection in the squad to play England.
It was the first serious hiccup in the 23-year-old's career which took off once he starred at sevens and began work with the Blues late in their 2012 campaign. This weekend he's watching his teammates go round in Perth but is good to go when the Blues travel to take on the Crusaders next weekend.
"It's no drama now. I've been running and moving no problem but everyone thought it best to give it another week to make totally sure," he said. "The body needs a bit more contact and conditioning.
"The time has gone fast, now. At the beginning it was far out, six to eight weeks seems a long time in rehab but it has been the best case scenario with the ACL."
The All Black selectors have used Piutau's versatile skills mainly on the wing where his ability under the high ball, incisive running and support play offered a broader brush to the team's back three work.
As the Israel Dagg/Ben Smith fullback debate bubbled along there was scant mention of Piutau being in the frame, largely because he was in the gym rehabbing his frame while his injury settled.
Initially Piutau cursed his fate and the pain after his foot caught in the turf and his knee bent awkwardly as Sam Cane collected him in a tackle. The poor-me thoughts lasted a little while before Piutau began to drink from the half full glass.
He envied his mates out on the playing pitch as he toiled in the gym, on the bike and rowing machine like it was pre-season once again.
Blues teammates Baden Kerr, Chris Noakes, Kane Barrett and Francis Saili had all been out of action for longer.
"I had to be positive. In a good way it meant I could freshen up because I had played every minute for the Blues and I was getting a bit fatigued. So I relaxed, spent time with the family and that freshened me up," he said.
"I had to make the most of my time, nothing was going to change so I had to go with it and prepare to come back stronger than before."
There were many examples for Piutau. The best was probably his All Black captain Richie McCaw who had bounced back into action against England after a broken thumb and is now sitting out a few more weeks to heal his rib injury.
If McCaw could do the business after so many seasons in the game Piutau could do the same.
"It teaches you to persevere and I guess is a test of your character. There are times when you think about coming into training and then you think about where you want to be in this sport and you get on with it."
Assistant All Black coach Ian Foster phoned to check on his progress and when the squad played at Eden Park and Hamilton, Piutau joined them for medical assessments, updates and reassurance about his progress.
Now Piutau is ready to return and challenge what is a crowded department in the All Black group. There is room but it will be a squeeze and Piutau is about to push his frame into the ballot.
"That is my mindset, it's just a matter of making sure I don't go too fast at training next week, time my run for the game and don't try to do too much when I get a chance."