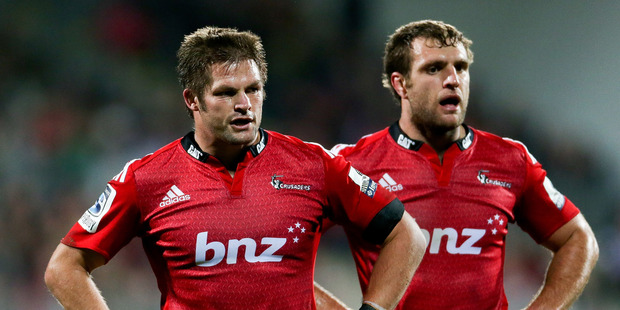 With Super Rugby re-establishing itself after the international window, it's not the time for a Chalkboard. We'll wait to see what patterns emerge after what is shaping as a fascinating first week back.
Undoubtedly the story of the week has been the selection of the Crusaders or, more accurately, the selection on the bench of some extremely high-profile Crusaders.
With the competition at such a critical juncture, it's vital to have your best team on the park every week, so I'm as intrigued as the next person to see Kieran Read and Dan Carter, two giants of the sport, starting from the bench.
I'm not sure what the injury status is of Israel Dagg but given he's not in the 23, you'd have to assume he was unavailable.
Carter would have been the more difficult choice, given how well Colin Slade has been playing, but I would have looked at playing them both. The Crusaders' centres have hardly been setting the world on fire, so they could have looked at shifting Ryan Crotty's consistency and solidity out one to centre and played Carter at second-five.
Carter is a very good 12. He started his All Black career there and is a smart enough player to adapt. Basically, what I'm saying is that I would have found a way to start him.
The Read selection raises some interesting questions. Grant Fox said this week that the All Black selectors had phone conferences with all five Super Rugby franchises and gave a detailed debrief of the status of every single player.
You can't help but wonder what they said about Read because he seemed to come through his 40 minutes against England very well.
His selection on the bench sends mixed messages. If he's healthy enough to come off the bench, surely he is healthy enough to start?
Every other team have got all their key internationals back into the fray as soon as possible and the Crusaders face no easy task against a Hurricanes team that has guys like Beauden Barrett, Cory Jane and Julian Savea who have played themselves into great form over the course of the England series.
I have a great deal of sympathy for coaches like Todd Blackadder who have to manage their squads over the course of a season, but this is the time to be playing your best players.
To me, guys like Carter and Read are starters. They are the sort of players who establish your game plan and get the team into the rhythm it is looking for - particularly Read, whose ball-running is pivotal to the Crusaders' attack strategy.
I'm not sure they're the type of guys you want coming off the bench to chase a game or add immediate impact, though they are unquestionably good enough to do so.
For selection reasons alone, the Crusaders-Hurricanes will carry the most interest for me.
The Blues have not had to make so many controversial calls, but they are at a crisis point of their own. Lose in Perth, where no team has found it easy to win this year, and their season is over. Win and they give themselves a glimmer of hope.
I'm not quite sure how, but they seem to be going over as favourites in most people's minds*.
The Force have fed on a lack of respect this season grab any and every opportunity to play up the underdog card.
The Blues would do well to play down their chances and try to come into this match as far below the radar as possible.
*Latest TAB odds has the Blues at $1.95 to win, marginally higher than the Force ($1.80).