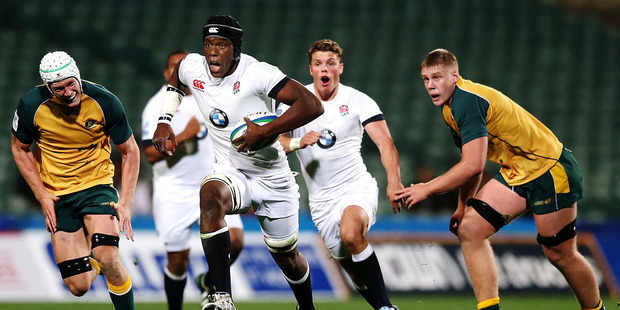 When you are watching tonight's final of the IRB Junior Championship, please do me a favour.
Take a moment to check out the size of the young men involved.
Not cursory glances either, take a good, long, hard stare.
Look at the height of the players and the broadness of them, too. Look at the sizes of the chest, the musculature of the arms and legs.
If you choose to do that, you will realise just how big a fair portion of the England and South African under-20 players are.
Now is it just me or are players from South Africa, France and England especially so much bigger than New Zealand rugby players?
I found it very noticeable (and somewhat disconcerting) during the first meeting between the Junior Springboks and the New Zealand Under 20 team, and that belief was reinforced when the two teams squared off in Sunday's semifinal.
Likewise, England coach Stuart Lancaster appears to have bigger players at his disposal than his All Black equivalent Steve Hansen does.
And while they are not as skilled, particularly in the tight five, it's obvious that there has been plenty of work being done in that area, hence the gap is starting to close.
My concern is that while the All Blacks are winning, New Zealand Rugby will continue to roll on, ignorant to our changing sporting landscape, especially an increasing American influence.
During preparation for a college rugby commentary last month, it really stood out just how many players wrote down American sports stars as some of their "Sporting Heroes" on their profile sheets.
Yes, there were All Blacks or other New Zealand athletes mentioned, but this (admittedly small) sample size did catch me by surprise.
Rugby needs to understand that while still appealing for young men, it's not the lay-down first choice it used to be in this country.
Basketball is a sport on the prowl for big, strong, agile athletes with good ball skills and one, given the success of Steven Adams, which looms as a very appealing option.
The Oklahoma City Thunder centre in his rookie year would have been on a salary far greater than what the All Black skipper earns ... and Richie's been doing his thing for a lot longer than Steven.
Rowing also looks for athletes with similar physical attributes to rugby and the success of the national crews at world championships and Olympics makes it an attractive sporting prospect, while league can offer far better rewards at a younger age in comparison with rugby.
New Zealand Rugby cannot rely wholly and solely on the mystique of "the jersey" if it wishes to continue to be rugby's global benchmark.
Young athletes are aware of the opportunities that other sports present and rugby needs to make sure that it is proactive in making the sport an appealing career option, which in turn will allow it to continue to secure the type of athlete needed to maintain long-term success.
Because, dare I say it, England and South Africa appear to have stolen a march in that key area of the game.