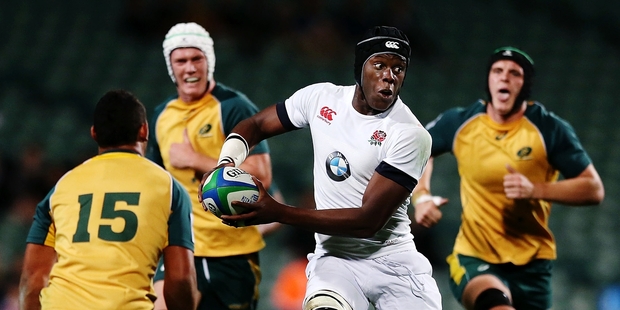 England have been busy working through their set-piece calls and structures for tomorrow's Junior World Championship final.
At the heart of that engine room is lock Maro Itoje, and the man who skippered the side in the convincing semifinal victory over Ireland is acutely aware that this area of the game will need to be well-honed for the final against the vaunted South Africa set-piece.
"We pride ourselves on our set-piece, so it should be a good battle there," said Itoje.
The 19-year-old Saracens academy player, one of seven in this squad out of the north London club, has been in the thick of some powerful output by the England forwards in this tournament, pulling down lineout ball, galloping around the track, including one memorable 35m charge against Ireland, and generally leading from the front.
England have an unusual situation whereby their tour captain, halfback Callum Braley, has not been able to command a regular starting gig.
Itoje has been more than happy to take the leadership mantle.
Like all his teammates, Itoje is coming to the end of a long season, so was relishing the fact that yesterday was to be the last significant training session for several weeks.
He has started one Premiership match for Saracens, who made the finals of both the Heineken Cup and Aviva Premiership, but his pathway has been blocked by Steve Borthwick, Mouritz Botha and Alistair Hargreaves, internationals all. Itoje, comfortable on the blindside, made his one start in the No 6 jersey.
"I hope to go back and start pressuring the senior guys. At Saracens, there are a lot of experienced, world-class players in my position.
"If the coaches show some faith in me, hopefully I'll be able to repay them," he said.
If Itoje's career takes off next season, then perhaps we can soon add his name to the nigh on 300 players who have graduated to full test honours out of the JWC.
"The dream is to one day become a full England international. That would be a massive honour."