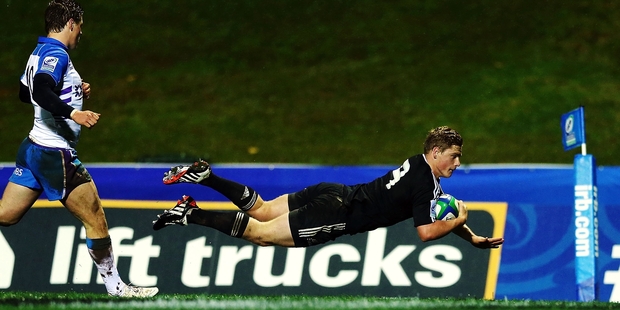 New Zealand are still alive at the Junior World Championships and will prepare for another tough match with South Africa on Sunday.
England, the winners of Pool A placed second on point differential, will meet Ireland in the second semifinal on Sunday.
New Zealand started the match against Scotland last night at knowing what they needed to reach the semifinals: a bonus point win and at least a five point victory margin to move ahead of Australia after an extraordinary day where results, and in particular Wales upsetting France, fell into line for them. They had seen some of the heavyweights, namely England and South Africa, struggle to impose their games, but as the weather cleared, so did their heads.
All eyes were on the first set-piece, a lineout. New Zealand hooker James O'Reilly promptly overthrew it, drawing groans from the smallish crowd. That was not thankfully a sign of things to come.
There was generally more urgency about the New Zealand effort, and No 8 Tom Sanders opened the scoring with a try off the back of a scrum, aided by a shunt up the backside from one of his teammates. Scotland handed the next one to Josh Renton, a loose lineout tap-back sitting up for the grateful No 9 to scorch 20m for the try. Halfway there, but no easy run home for New Zealand with the rain pelting down.
Blindside flanker Kyle Harris threw himself around the track, in keeping with his impressive tournament, and openside Mitch Jacobson hooked into his work with relish. Sanders too was industrious and set up Jacobson's try with a dash from the base.
Simon Hickey injured his leg in the first half and limped off early in the second, replaced by Damian McKenzie with Richie Mo'unga shifting from fullback to No 10.
The rain ceased and New Zealand started to string some useful movements together. One of those led to the bonus point try and secured the passage to the semifinals.
Second five Kaveinga Finau grubbered through and Mo'unga appeared to knock the ball on, but the TMO ruled that it came off his knee. Scotland made a meal of tidying up and Renton pounced for his double.
New Zealand relaxed after their fourth try and though the changes were wrung, it was like a weight had been lifted from their shoulders. McKenzie embodied that, a shimmy and step off an inside ball from Mo'unga sealing their fifth try. Three more followed.
New Zealand 54 (Josh Renton 2, Tom Sanders, Mitch Jacobson, Damian McKenzie, TJ Faiane, Vince Aso, Leon Fukofuka tries; Richie Mo'unga 5 cons, Simon Hickey 2 cons)
Scotland 7 (Damian Hoyland try; Gavin Lowe con)
HT: 21-0