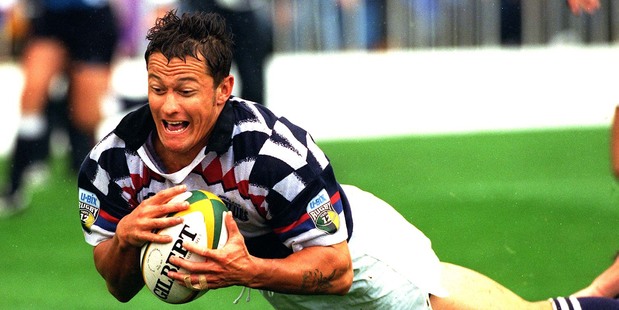 The Blues future is easy enough to predict with five games of this campaign left.
They will pick up up two, maybe three more wins, fall short of the play-offs and then embark on the customary review of why they once again didn't fulfil their potential.
The answer to the last part will be the same as always. The story hasn't changed much for a decade.
It's the same, old failing that gets them every time - a lack of class and experience in their No 10. Pick any year after 2004 - the last season they had Carlos Spencer at his best - and it's all so depressingly familiar for those who traipse to Eden Park.
This is the problem they can't fix and it's not been for want of trying. The search has been extensive. Twenty players have worn that No 10 jersey since Spencer moved on and the Blues have offered the world to try to lure others.
They put almost $300,000 on the table for Daniel Carter in 2009 - a year in which they also talked about making a play for Jonny Wilkinson and Juan Martin Hernandez.
They have also chased Aaron Cruden and Beauden Barrett and then, possibly out of desperation, threw $500,000 at Benji Marshall. They have kissed a huge number of frogs and not one has become their Prince. Until they find 'the one' they face a perpetual cycle of not quite being as good as they should.
Is it really that simple, though? Find a world-class 10 and become champions? Not quite, but it's not that far off the mark, either. There's not much wrong with their overall game. Their set-piece works, they clean out well and have ball carriers, line breakers and finishers.
In recent weeks - certainly at Eden Park - they have added some tactical attacking subtleties and defensive improvements that enabled them to win comprehensively.
They aren't missing many pieces. They need a tough nut, aerial lock - a younger version of Tom Donnelly.
They have missed a bit of composure and accurate distribution from their respective No 13s this year, but that can be fixed when Francis Saili returns from injury. In terms of personnel, they just about have all they need - except at 10.
If they had one, they'd ask more of opposition defences. Nonu would be released closer to the gainline and be even more effective. The space would open more readily for the outside backs, the tempo of their attacking game would increase, they would find more width and score more tries.
Then there would be the intangibles: the confidence that comes from absolute faith in the team's playmaker and the doubt it spreads through the opposition.
Look at the best teams and ask what they have in common. The answer is class at first-five. Colin Slade has been at the heart of the Crusaders' revival, Matt Toomua does so much right particularly on defence for the Brumbies, Barrett is playing well for the Hurricanes, and the Chiefs have just about retained their momentum without Cruden thanks to some impressive contributions from Gareth Anscombe.
Simon Hickey has battled hard for the Blues. He's kicked goals and thrown himself at ball runners. But he's 20, not even on a full contract, and that's reflected in his ability to direct the team, play in the right areas and make the right decisions.
The Blues, who have in the past discarded emerging talent only to see them succeed elsewhere, have to ask whether Hickey is worth more investment. Is he being impeded this season by inexperience or does he simply lack the acceleration and elusive running possessed by the best No 10s? If they keep him, how long before he starts to deliver the sort of performances the Blues need to become a play-off team?
"It's tough to put a time length on it," Hickey says. "If I start to get big picture and get ahead of myself, that's when I'll get myself into trouble. I'm trying to earn my selection every week and that's the main thing. I know it's going to take time to be comfortable at this level. I'm not worrying about too many external factors. I'm on a wider training contract for this year and that won't change.
"Hopefully if I can play well, I can earn a few more years at the Blues. I love playing here. It's where I'm from and I hope to do it for a long time. There have been a few who have come and gone recently. There have also been some awesome first fives who have played for the Blues and Auckland, so it's a hugely exciting opportunity to be here and to try to be one of them."